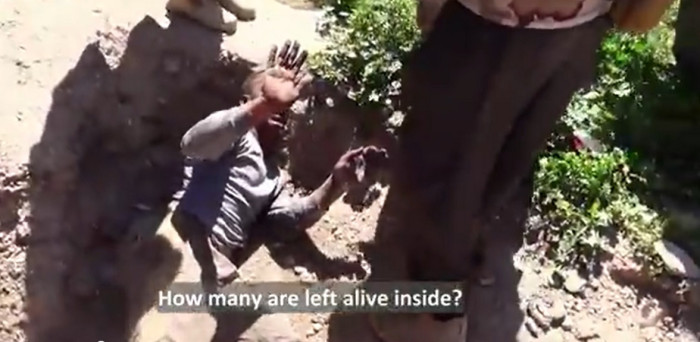 US President Barack Obama has announced plans to send 275 US troops to Baghdad. In a letter to Speaker of the House John Boehner and President Pro Tempore of the Senate Patrick Leahy, Obama wrote:
"Starting on June 15, 2014, up to approximately 275 U.S. Armed Forces personnel are deploying to Iraq to provide support and security for U.S. personnel and the U.S. Embassy in Baghdad. This force is deploying for the purpose of protecting U.S. citizens and property, if necessary, and is equipped for combat. This force will remain in Iraq until the security situation becomes such that it is no longer needed."
Obama's announcement provides further confirmation that the US is increasingly concerned about the deteriorating security situation in the country.
A helicopter belonging to the Iraq army has been shot down near Fallujah, during fighting between government forces and militants from ISIS - the Islamic State in Iraq and the Levant. The news broke just hours after the Iraqi military released footage of airstrikes against ISIS positions north of Baghdad and boasted it had "regained the initiative" against the militants.
There are also reports the terrorists have seized the key city of Tal Afar, which sits on the main road between Mosul and the Syrian border. Unlike most of the other cities seized in recent days Tal Afar has a substantial Shia population.
Meanwhile UN high commissioner for human rights Navi Pillay says the "apparently systematic series of executions [of non-combatants] almost certainly amounted to war crimes."
Although some Western commentators have cast doubt on the veracity of photographs apparently showing Shia soldiers being executed en masse, a video apparently released by ISIS seems to show countless killings committed by the group, some of them recent.
"Clanking of the sword", uploaded to YouTube on 8 June, shows soldiers, citizens and government officials being killed, along with footage of attacks on army vehicles and explosives being thrown into compounds. Although the footage is deeply disturbing the video itself is extremely sophisticated, incorporating split screens, background music and special effects.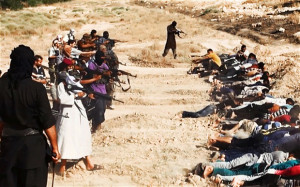 The US have deployed the USS George HW Bush aircraft carrier to the Gulf and Secretary of State John Kerry has not ruled out drone strikes to attempt to halt the advance of ISIS. He calls the advance of ISIS an "existential threat" to Iraq, which was invaded by the US and Britain in 2003. Former UK Prime Minister Tony Blair says he does not believe that military action helped create the current situation, though many Western politicians and journalists disagree.
The rapidly-unfolding crisis has raised the previously unthinkable possibility of the United States and Iran co-operating to nullify the threat of ISIS, who want to create a Sunni Islamic caliphate across Iraq and Syria. In Baghdad Shia militias have been preparing to resist ISIS, amid fears a full-scale civil war could break up the country.