Iraq Isis Crisis: Brent Hovers Near Nine-and-Half Month High on Supply Worries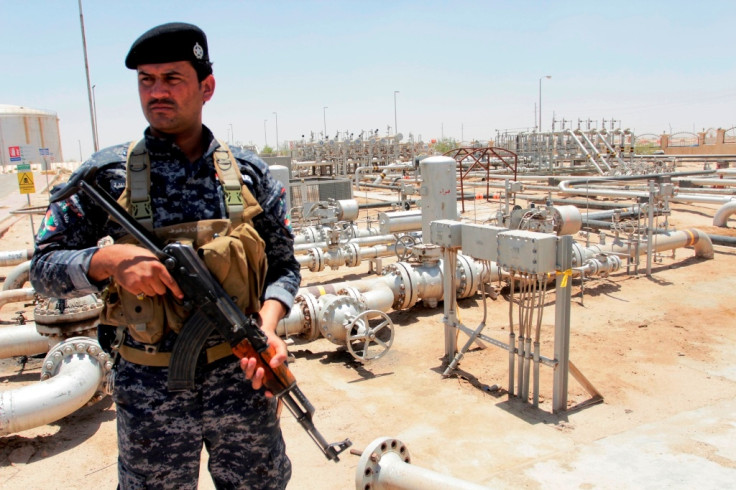 Brent was hovering at near nine-and-a-half-month high as crude oil futures rose in direct response to advances made by Isis fighters in Iraq, which is Opec's second-largest crude producer.
Brent August contract was trading at $114.88 a barrel at 11:30 BST, after rising 85 cents to $115.66 a barrel earlier in the day.
The European benchmark was at a premium of $7.83 to WTI crude. Prices have risen 3.7% in 2014.
WTI August contract was trading 62 cents higher to $107.45 a barrel.
Commerzbank Corporates & Markets said in a note to clients: "Brent is trading close to the 9½-month high of just below $116 per barrel it achieved on [19 June]. Its current price increase is very much reminiscent of its surge in the late summer of 2013, when it was the threat of a military strike against Syria that gave rise to fears of the crisis escalating and of supply outages.
"Today it is the advance of Sunni [Isis] extremists in Iraq that is likewise resulting in fears that the oil supply could be disrupted. That said, fighting in Iraq has so far taken place only in areas of little or no significance to oil production and oil shipments."
"It is still the case that any actual interruption to the supply of oil from Iraq is very unlikely, for 90% of Iraq's oil is shipped from export terminals in the south of the country that are far away from the Isis extremists and are also unlikely to be reached by them. Kurds have control of the key Kirkuk oilfield in the north of Iraq. Oil could soon even be shipped from there to the Turkish Mediterranean coast now that a pipeline link to an existing pipeline has been completed.
"In other words, it is first and foremost the fear of disrupted supply in Iraq that is causing the risk premium on the oil price to rise. For as long as this fear retains the upper hand, the oil price can be expected to continue its climb. Its next target is the high of $117.34 per barrel it achieved in late August 2013. Assuming - as we expect - that these interruptions fail to materialize, the oil price is likely to shed its fear-driven gains again, just like it did in the late summer of 2013, and to fall back to below the $110 per barrel level," Commerzbank added.
US President Barack Obama warned the crisis could destabilise the entire region.
"We're going to have to be vigilant generally," Obama said.
"Right now the problem with Isis is the fact that they're destabilising the country. That could spill over into some of our allies like Jordan," Obama told CBS in an interview aired on 22 June.
The Isis fighters, who launched their campaign earlier in the month with the capture of Mosul in northern Iraq, made further advances over the weekend, taking control of two key border posts and other towns near Syria.
The capture of the al-Qaim and al-Waleed border posts and three towns in Anbar province has helped them secure supply lines to Syria and consolidate their grip on the area straddling the two countries where they aim to establish a Sunni Islamic caliphate.
Crude oil prices logged gains during the week ended 21 June, amid fears about potential supply disruptions in Iraq.
Brent gained 2.1% for the week ended 21 June while the WTI inched up 0.33% for the week.
© Copyright IBTimes 2023. All rights reserved.