Iraqi Prime Minister Nouri al-Maliki has called on Iraq's parliament to adopt martial law across Iraq after the country's second largest city fell into the hands of Islamists.
Al-Maliki made the call for a nationwide state of emergency in a televised news conference in which he said "Iraq is undergoing a difficult stage" and that insurgents had captured "vital areas in Mosul".
He urged the public and government to unite "to confront this vicious attack, which will spare no Iraqi."
The capture of the city of Mosul occurred after an overnight assault by hundreds of Islamic State in Iraq and al-Shams (Isis) jihadists, bearing rocket-propelled grenades, sniper rifles and machine guns, on key local government, police and military headquarters.
The militants freed up to 1,000 inmates from Mosul's central prison, according to senior police officials. They are also in control of Mosul airport and local television stations.
Security forces abandoned their posts as militants overran the key buildings while the released prison inmates were seen running through the streets of Mosul in yellow jumpsuits.
Isis have carried out a number of attacks on cities around the country in the past week, killing scores of people.
The group are an al-Qaida splinter faction who continue to wage war against Syrian President Bashar al-Assad in the neighbouring country.
Governor of Nineveh province, home to Mosul, this week made a televised plea to the city's citizens asking them to resist the militants.
"I call upon the men of Mosul to stand firm in their areas and to defend them against the strangers and to form public committees in their districts to help their people and to protect their areas," said Atheel al-Nujaifi.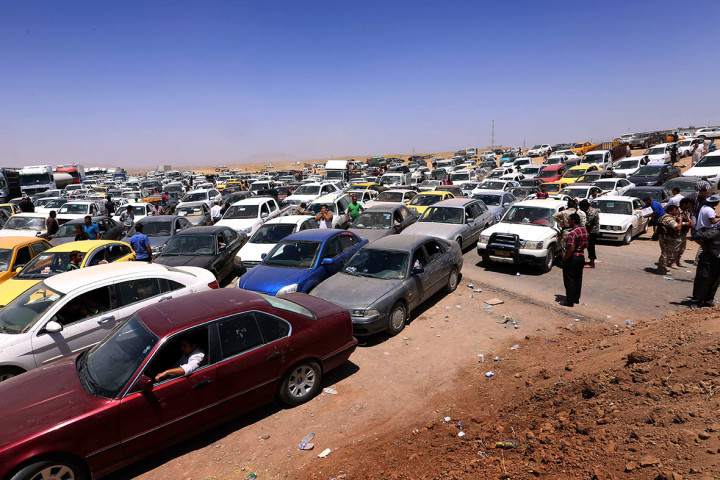 Mosul, with a population of approximately 1.8 million people, is a majority Sunni city 260 miles north of Iraqi capital Baghdad.
While the fight for the city continued, a blast killed approximately 15 people and wounded 27 at a funeral in the city of Baquba, situated 35 miles northeast of Baghdad.
The capture of Mosul comes after al-Maliki failed to secure a majority in April's parliamentary elections.
Isis has positioned itself as a champion of Iraqi Sunnis who are disillusioned with al-Maliki, a Shiite prime minister, and whom feel marginalised under his leadership.