Hundreds of people attended a two-day memorial celebration in the Kurdish city of Duhok, located in the semi-autonomous Kurdistan Region in northern Iraq, in honour of former Israeli president Shimon Peres, who died on Tuesday (28 September) at the age of 93.
"I went to the memorial service to pay my respect to the man who believed in our cause; to the man who sought to bring peace to the Middle East," said Mustafa Atroshi, a local man who took part in the event on Wednesday. "We will remember that Mr Peres supported our struggle when no one around us did," he added.
The Kurds in Duhok are reaching out to Israel at a time when the Kurdistan Regional Government (KRG) is engaged in an unprecedented effort to foster a climate of coexistence between different religious communities. To that end, the KRG last year appointed official representatives for each of the region's minorities, including Jews, Baha'is, Kaka'is, Shi'a Muslims, Mandaeans and Zoroastrians.
Sherzad Omar Mamsani, the KRG's first Jewish representative and veteran human rights campaigner, has been tasked with reviving the ancient bond between Kurds and Jews, something he quite literally embodies as the son of a Kurdish Jewish mother and a Muslim father.
Since the creation of the state of Israel in 1948, widespread persecution forced the vast majority of the 2,800-year-old Iraqi Jewish community to flee the country, culminating in Operation Ezra and Nehemiah in which 130,000 Iraqi Jews were airlifted to Israel between 1950 and 1952.
Those who remained had to carry yellow identity cards and were forced to convert to Islam. The exact number of Jewish descendants living in the KRG today is unknown, but the Kurdish ministry of religious affairs estimates that at least 300 families still reside in the region.
During the memorial service, locals shared memories of Kurdistan's Jewish past. "There was this old man talking about Jews who lived in his village before they were forced to flee. He was remembering how Jews played a good role in the community and how good at handcraft they were", Atroshi recalled.
You cannot organise a memorial for an Israeli statesman anywhere in Iraq; only in Kurdistan.
He also explained how they were systematically indoctrinated by the Hussein regime. "When I was younger and lived under Saddam, I was taught in school to hate Jews for no reason. They were our first enemy and we were asked to fight them in all possible ways," Atroshi said.
"After the liberation of Iraq in 2003, Kurds began to freely talk about Jews as their friends and neighbours and now we Kurds are trying to build a bridge between Kurdistan and Israel."
Although Mamsani's mandate is not political, his office has actively tried to strengthen formal ties between Israel and the KRG. Under his leadership, the Jewish exodus from Iraq and Holocaust Memorial Day were marked in historic ceremonies in the Kurdish capital Erbil.
In March 2016, he visited Israel for the first time since his appointment. He held meetings with senior lawmakers in the Knesset and met with leading religious figures. "Israel developed into an advanced democracy in just over 65 years. It should serve as a positive example in the region," Mamsani commented at the time.
The appreciation is mutual. Israel might well be among the first countries to recognise Kurdistan as a state, should the KRG decide to go ahead with its plan to hold a referendum.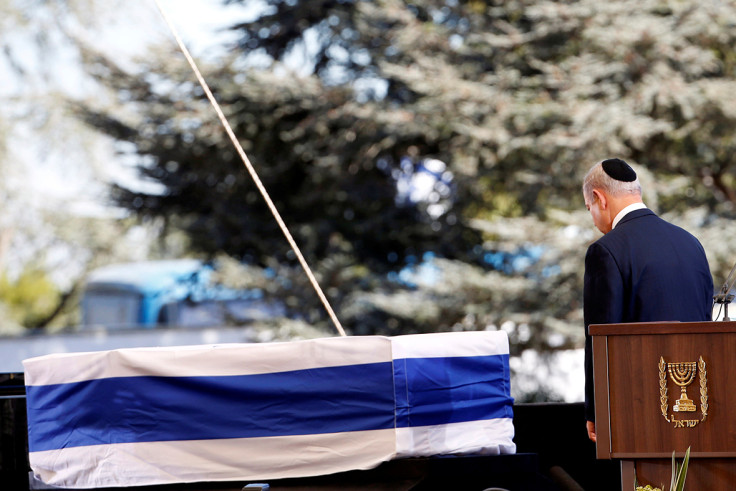 A chorus of senior Israeli politicians have repeatedly voiced their support for an independent Kurdistan, including the late Shimon Peres, Prime Minister Benjamin Netanyahu, Justice Minister Ayelet Shaked, and Defence Minister Avigdor Lieberman.
As president, Peres expressed sympathy for Kurdish aspirations: "The Kurds have, de facto, created their own state, which is democratic. One of the signs of a democracy is the granting of equality to women," he said during a meeting with US President Barack Obama in 2014.
The same year, Netanyahu praised the peaceful nature of the Kurds in a speech at Tel Aviv University: "They are a fighting people that has proved its political commitment, political moderation, and deserves political independence."
Iraq refuses to recognise the state of Israel and no diplomatic ties exist between Baghdad and Jerusalem.
Peres briefly met with KRG President Masoud Barzani at the World Economic Forum in Jordan last year and news of his death was received with genuine sorrow in Erbil.
"In my name and on behalf of Kurds everywhere, I send deepest condolences to the Jewish people and the government of Israel following the passing of Shimon Peres. His death is not only a loss to Israel but also the entire Middle East. The president was a peacemaker and an architect of coexistence between people of different religions," Mamsani said in a statement on Thursday.
In contrast, the central government of Iraq made no comment on the death of Peres. Like the majority of countries in the Middle East, Iraq refuses to recognise the state of Israel and no diplomatic ties exist between Baghdad and Jerusalem.
"You cannot organise a memorial for an Israeli statesman anywhere in Iraq; only in Kurdistan", explained Atroshi. "I asked a friend of mine, who is Arab and currently works in Duhok, to come along and pay respect to Mr Peres. He really wanted to come, but he was afraid that, if one day he goes back to his home town, they will rip him apart."
It is precisely the level of hostility directed towards Israel, a non-Arab country in an Arab-dominated region, that the Kurds can strongly identify with. Their suffering unites them.