Iraqi Kurds told to give up on independence or face war, hunger and air embargo
Turkey and Iraq have urged Kurdish officials to call off 'unconstitutional' referendum on independence.
Turkey's President Recep Tayyip Erdogan has warned Iraqi Kurds "could go hungry" if he implements punitive measures following an independence referendum held by the Kurdistan Regional Government (KRG).
On Monday (25 September) Iraqi Kurds headed to the polls to decide whether they wanted their autonomous region to be independent from the rest of Iraq. Although the result of the referendum has not been officially announced yet, Iraqi Kurdish leader Masoud Barzani said that Kurds had voted "yes" to independence, Reuters reported.
Iraq and its neighbours, Iran and Turkey, have criticised the referendum and urged Kurdish officials to call it off. Iran and Turkey fear that the referendum could spark independence sentiments among Kurdish populations in their own countries.
"If Barzani and the Kurdish Regional Government do not go back on this mistake as soon as possible, they will go down in history with the shame of having dragged the region into an ethnic and sectarian war," Erdogan said during a a televised speech on Tuesday, according to AFP.
Erdogan, who described the referendum as "treachery", said Ankara was considering imposing sanctions and blocking Iraqi Kurds' oil exports.
"The moment we turn off the valve, it is finished, all your income will disappear," he warned. "When the trucks stop crossing into northern Iraq, they will not find food or clothes ... Will Israel send them what and from where?"
Kurdish officials explained that a "yes" vote would not automatically mean independence, as the referendum is not legally binding. However, the result will be used to pressurise the Iraqi government in Baghdad to start negotiations to formalise independence.
Iraq, which considers the referendum "unconstitutional", called on the Kurdish region to hand over control of its airports or face an "air embargo".
KRG has until Friday (29 September) at 3:00 p.m (12:00 GMT) to hand over control of its airports, according to Reuters. The embargo would also apply to humanitarian and other 'urgent' flights.
"I will not give up on the unity of Iraq, that is my national and constitutional duty," Prime Minister Haider al-Abadi said, according to AP.
Barzani called for "dialogue" with Baghdad. "Negotiations are the right path to solve the problems, not threats or the language of force," he said in a televised address.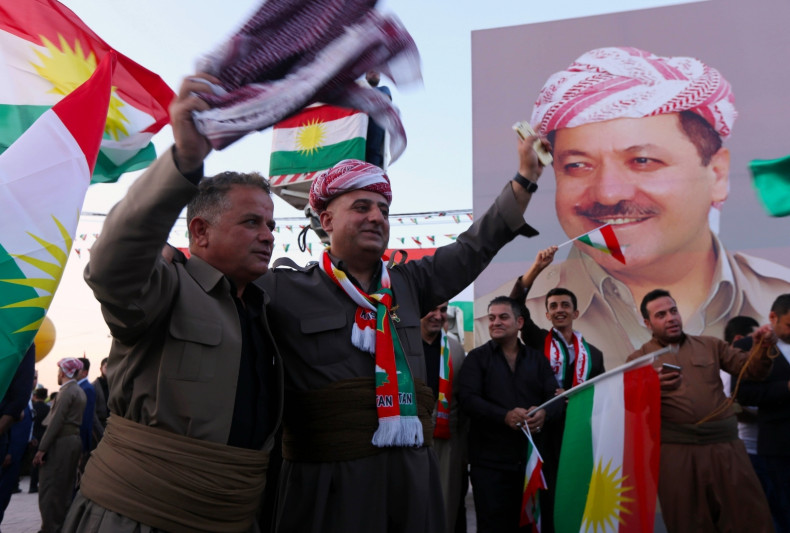 Both the US and the UN have opposed the referendum.
"We believe this step will increase instability and hardships for the Kurdistan region and its people," US State Department spokeswoman Heather Nauert said in a statement.
"The fight against Isis [terror group] is not over, and extremist groups are seeking to exploit instability and discord. We believe all sides should engage constructively in a dialogue to improve the future of all Iraqis," she added.
A spokesperson for UN Secretary-General Antonio Guterres said the referendum could be "potentially destabilising" for the region
"The Secretary-General respects the sovereignty, territorial integrity and unity of Iraq and considers that all outstanding issues between the federal government and the Kurdistan Regional Government should be resolved through structured dialogue and constructive compromise," spokesman, Stéphane Dujarric, said in a statement.
"The Secretary-General expects that United Nations-mandated activities across Iraq, including in the Kurdistan region, will be allowed to continue unhindered."