Ireland is set to go to polls on 26 February and voters are preparing to cast their ballots at polling stations across the country. Yet Inishfree, a remote island, situated off the coast of Donegal has very few people registered to vote, with polls going ahead a day earlier than the mainland.
Philomena Curruid, a local resident of Inishfree, has allowed the voters to use her home as the island's polling station. The four registered voters then travelled to her home by boat and helicopter in order to cast their ballot.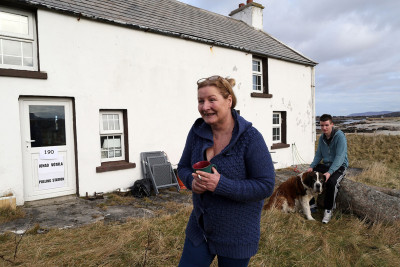 In Dublin, Irish politicians are making their final appeals for support ahead of the country's general election, a contest that could produce a hung parliament and weeks of political uncertainty. Irish Prime Minister Enda Kenny was joined by the deputy prime minister and leader of the Labour party, Joan Burton, and asked voters to continue their five-year-old coalition government in power.
Polls throughout Ireland's unusually short three-week campaign forecast that Kenny's centrist Fine Gael should remain the largest party in parliament, yet Burton's left-wing Labour Party faces potential obliteration, with Burton at risk of losing her own Dublin seat. Labour has served in the Irish government for 19 years, six times in coalition with Fine Gael or with smaller parties.