On 9 August, Indian activist Irom Chanu Sharmila ended a 16-year hunger strike against the country's Armed Forces Special Powers Act. Sharmila's first taste of food after 16 years was a lick of honey in front of journalists at the hospital where she spent most of her time in what was the world's longest ever hunger strike.
Due to her ongoing hunger strike, Sharmila, 44, was detained by Indian security forces under a law that makes attempting suicide illegal. However, on 9 August a court granted her bail after she assured the judge that she was ready to end her fast as part of her plan to pursue a career in politics and possibly get married.
Sharmila's hunger strike ended on the day that coincides with the 70<sup>th anniversary of the Quit India movement, the day when India's freedom struggle against British colonisers began. The civil rights activist has said that she now wishes to contest in the elections to become the Chief Minister of the north-east Indian state of Manipur.
Speaking to the court on 9 August, Sharmila said: "I have been fasting for the last 16 years. I haven't got anything from it yet. I am ending my fast today. I want to try a different agitation now. I will contest against the chief Minister of Manipur in the upcoming state elections."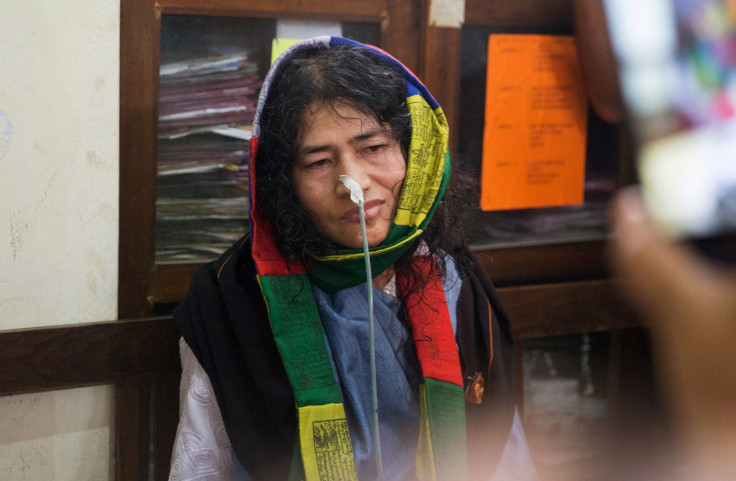 Sharmila began her hunger strike 16 years ago when 10 civilians were killed by Indian soldiers in Manipur. Her hunger strike has been a protest against India's Armed Forces Special Powers Act (AFSPA), which grants the Indian military powers to use force to fight insurgency in "disturbed areas", as well as arrest people without warrants and shoot to kill in some instances. The AFSPA is currently in effect in a number of Indian states, including Manipur and Indian-administered Kashmir.
Soon after she began her hunger strike, Sharmila was detained and put in judicial custody in a hospital in Manipur's capital of Imphal, where she was force-fed a mix of medicines and baby formula through her nose. In 2014, a court rejected charges that she was attempting suicide and released her, however, she was re-arrested two days later when she refused to end her hunger strike protest.
Soon after Sharmila ended her hunger strike, Amnesty International called on authorities to drop all charges against her and take steps towards repealing the AFSPA. Abhirr VP, Senior Campaigner with Amnesty India, said that the AFSPA was "inconsistent" with India's obligations under international human rights law and noted that several Indian and international bodies had called for its repeal.
"Sharmila's decision to break her hunger strike gives India another chance to start a dialogue and recognise how the AFSPA has alienated Manipur for over 35 years," said VP. "Sharmila's hunger strike over the last 16 years has been a testament to her passion for human rights, and her belief that a draconian law like the AFSPA has no place in any society."