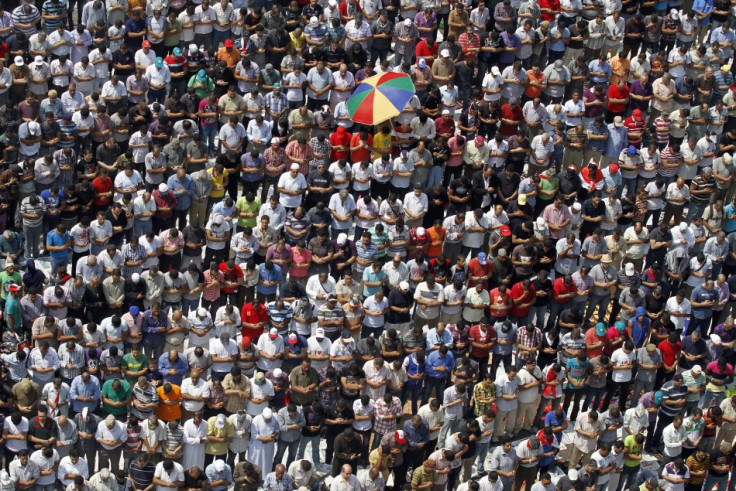 Months after ousting Mubarak, the dictator who many called the Pharaoh, Egyptians are still living under emergency laws and are ruled by a military council full of the former president's old ministers and advisors while the economic and social situation has slowly continued to degrade.
As protests against the military council and a lack of new reforms go on, hundreds of people gathered in Cairo's Tahrir Square Friday to demonstrate, this time targeting the latest expansion of the emergency law, amid fear over the military council's handling of the aftermath of the revolution.
Last week the Supreme Council of the Armed Forces (SCAF) included strikes, traffic disruption and the spreading of rumours to the emergency law that Mubarak had previously restricted to narcotics and terrorism.
On Thursday, Amnesty International slammed the decision as a "serious erosion of human rights."
"The military authorities have essentially taken Egypt's laws back to the bad old days," said Philip Luther, Amnesty's Deputy Director for the Middle East and North Africa.
"These changes are a major threat to the rights to freedom of expression, association and assembly, and the right to strike," Luther said. "We are looking at the most serious erosion of human rights in Egypt since Mubarak stepped down."
"Not only must SCAF repeal these amendments, they need to end the state of emergency altogether, as they promised upon taking power in February," Luther said.
Many Egyptians still have mixed feelings toward the army and the police who fired on demonstrators during the protests that led to Mubarak's departure, and the interim leaders' new move has only added new concerns that the army could continue the scheme of repression of the opposition that Mubarak ran for decades, using intimidation methods and threatening opponents by the creation of what many called the "secret police".
Imam Gomaa Mohammed, delivering the Muslim noon prayer sermon, called on the authorities to repeal the law immediately and also to end the military trial of civilians. He told the AFP "The application of the emergency law totally contradicts the demands of the revolution".
Since the establishment of the interim military council, protesters and activists have repeatedly denounced the continuation of the emergency rule and of the military trials of civilians, which many rights group insist have now totalled 10,000.
Also despite being in power for months, the new government, which is supposed to be a transitional one, has failed to come up with a timetable framing the next legislative and presidential elections, which will give Egypt the opportunity to elect its political representatives.
With security still at a low level in the capital and continuous protests targeting a wide range of political, social and economic issues, stability in Egypt is far from won, proving that despite Mubarak's fall, the regime that supported him in power is still standing strong, promoting the same mode of government and of repression of the civilians and their demands.