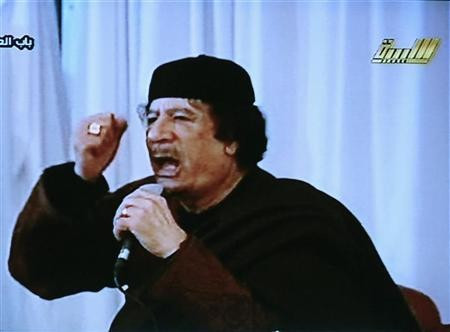 France acknowledges that it is growing impatient with the lack of progress on reaching a political solution to the crisis in Libya, but officials denied Paris is in talks with Gaddafi's government or could consider him not quitting power.
Remarks by Defence Minister Gerard Longuet saying rebels should start direct negotiations with Gaddafi's camp, and allegations that Paris was holding talks with the Libyan leader, pointed to a growing sense of frustration in Paris.
However French officials have now denied any shift in position and said Paris insist it only has sent messages to Tripoli via intermediaries to reiterate the need for Gaddafi to step down and withdraw his troops to enable a political solution.
"There are no direct negotiations between France and the Gaddafi regime, but we pass messages through the rebel council (TNC) and our allies," foreign ministry spokesman Bernard Valero said, asked about comments by Saif al-Islam, one of Gaddafi's sons, saying Tripoli was in talks with the French government.
"France wants a political solution, like we have always said," Valero said in an online media briefing.
"There is no change of course in the French position," a defence ministry source said, asked about Longuet's remarks.
Valero also told Reuters that France wanted to accelerate the process of planning for a post-Gaddafi era, but noted it is not up to France to say who would participate in a new Libya.
"At no point have we excluded members close to Gaddafi (from consultations) as long as they don't have blood on their hands," he said.
Backing Valero's statement, French Foreign Minister Alain Juppe said Tuesday that France had had "contacts" with the Libyan regime concerning the departure of leader Muammar Gaddafi but no real negotiations had taken place.
"There have indeed been contacts, but it has not turned into a real negotiation," he told France Info radio station. "The Libyan regime is sending messengers everywhere: to Turkey, New York, Paris," he said.
"We are meeting envoys who say to us: look, 'Gaddafi is ready to go, let's talk about it'," he added.
The allegations emerged after Gaddafi's son Seif Al-Islam told the Algerian daily El Khabar in an interview published Monday that Tripoli was "holding real negotiations with France and not with the rebels" who were trying to oust him.
However while France denies holding direct talks with the leader, Juppe claimed that Gaddafi is now preparing to step down.
"These are a return of Gaddafi's troops to their barracks, permission for UN monitors on the ground and "a declaration by Gaddafi, in a form yet to determined, that he is withdrawing from political and military power," he said.
However, despite the Paris' denial and claims that the Libyan leader has accepted he must step down, according to Reuters diplomatic sources close to the matter said envoys from Paris and Tripoli have met in Paris, Brussels and Tunisia in recent weeks, but have made little progress as Gaddafi seems unwilling to step down from power immediately, but would rather organise elections.
"So far, it's been like a dialogue between deaf people, they are not on the same page," the source told Reuters, adding: "For Sarkozy, it's unthinkable that Gaddafi remain in Libya or a neighbouring country. He is insistent."
Meanwhile, analysts say the financial and political costs of the Libyan air campaign are putting France and Britain under pressure.
"For France and Britain, the reality of the mission is setting in. It is clear therefore that Paris is moving ahead on negotiations with Gaddafi, floating the possibility of leaving (him) in the country," said Stratfor analyst Marko Papic.
He said the political costs of leaving Gaddafi's camp in control of Western Libya could be lower for the allies than the cost of continuing with military action stuck in stalemate.
"What this really means is that Paris is also willing to accept a divided Libya, since nobody takes seriously the suggestion that Gaddafi would stay in Libya, but give up his powers. Whatever happens to Gaddafi, his loyalists continue to be entrenched in the West, while the rebels continue to be unable to force him out of his stronghold. This then is the status quo that the Europeans seem willing to accept" he told Reuters.
"The underlying fear remains a protracted campaign that intrudes onto the French election season, embarrassing Sarkozy and leaving the French (and British) isolated," said Shashank Joshi of Britain's Royal United Services Institute.
While France is insisting it wants and has always wanted a political solution to the conflict it contradicts itself by insisting that the bombings should continue until Gaddafi steps down. Juppe confirmed that military pressure on the regime must continue and even increase.
"We need to keep up the military pressure because apparently Gaddafi is failing to understand what is bound to happen for him," Juppe told reporters during a visit to Mauritania.
"At the same time, and we have been working for weeks and weeks on this, we need to seek a political solution that rests on three or four parameters: a real cease-fire, which means Gaddafi's troops withdrawing to their barracks."
Five months ago, Nicholas Sarkozy quickly seized the opportunity to play a role on the international scene through the Nato led operation in Libya, and together with the U.K chose to lead the mission. At the time, the French president insisted France had decided to "assume its role, its role in history."
Unfortunately, what was supposed to be an easy and short-lived operation that would help enhance France image, turned into a much criticised affair.
While the legality of the Alliance's bombardments campaign has been questioned and challenged by many analysts and lawyers, it has most importantly failed to achieve any breakthrough.
It seems that as Paris becomes increasingly concerned about the mounting cost of the military campaign and the prospect of it running on into the start of a 2012 election campaign, France is shifting its position and wants the rebels to be being more flexible and do more concessions to finally reach a cease fire and end the conflict.