Islamic State (Isis) is bidding to halt the delivery of babies by C-section, calling the procedure Western and "un-Islamic".
Doctors working in Isis-controlled territories of Syria have been ordered to charge mothers 15,000 Syrian pounds (£54, $73) – two months salary for an average Syrian – to undergo a Caesarian section.
Gynaecologists and medical teams who defy this rule will be punished, according to Al Arabiya News.
C-sections are defined as "a surgery done to deliver a baby by making a cut in the front wall of the abdomen and womb".
In some Western countries elective C-sections are gaining in popularity. However, its use is necessary when a delivery through the birth canal is not possible or is unsafe.
C-sections: 'anti-Islam plot'
But an edict from Islamic militants published in the northern Syrian province of Deir ez-Zor has ordered medics to not use the procedure, "In order to assist the believers from the sons of Islam who are working in the medical corps to support their brothers from the poor and others besides them from the Muslim populace, and with the desire to keep the course of medical work removed from arbitrary whim.
"This is to be considered as tantamount to a written order and all who contravene it will be held accountable in the Dar al-Qaḍa [IS judiciary] with attendant consequence."
Sheikh Muhammad ibn Saalih al Uthaymeen (1925-2001), a prominent Sunni Muslim Islamic scholar, stated in a ruling on Islamic doctrine that Muslim mothers should not use pain-relieving medication during labour and delivery.
In a statement published on IslamQA website he said: "I would like to take this opportunity to point out a phenomenon that has been mentioned to us, which is that many obstetricians, male and female, in the hospitals are too keen for birth to take place by surgical means, which is known as a Caesarean.
"I am afraid that this may be a plot against the Muslims, because the more births take place in this manner, the more the skin of the abdomen is weakened and pregnancy becomes more dangerous for the woman, and she becomes unable to get pregnant."
He also commented: "Some of the people who work in private hospitals have told me that many women come to the hospitals and their specialists tell them that there is no alternative to a Caesarean, then they go to this private hospital and give birth naturally."
However, Islamic scholars of the Middle ages were among the first not only write about this operation but to illustrate it in pictures, to describe its use.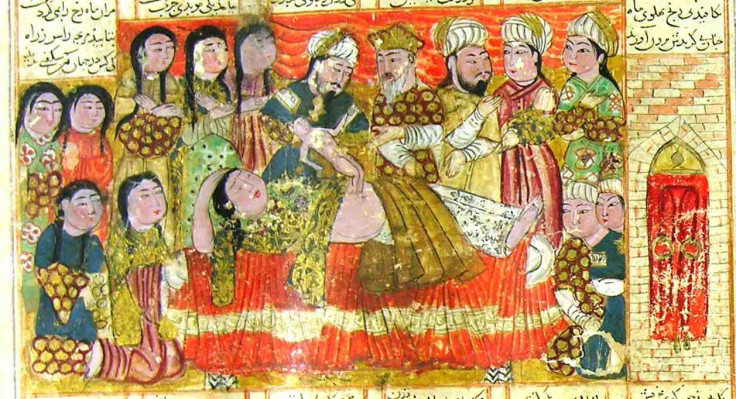 An estimated 64% of Syrian public hospitals have been damaged, destroyed or shut down due to the continuing conflict, according to Save the Children.
Experts say maternal and infant deaths are on the rise across the world.
C-sections, which can cause a number of health complications, are also on the increase in war zones. While women are aware of the health risks, the number of women opting for the procedure more than doubled in 2013 from 2011, since a C-section allows women to schedule the birth under more secure conditions, according to a recent Save the Children report.