The Islamic State (Isis) have launched two devastating chemical attacks on the Iraqi town of Taza killing one three-year-old girl and injuring up to 600 people. The two strikes came just three days apart and were aimed at the town populated by ethnic Shia Turkmen.
Taza was struck by a barrage of rockets carrying chemical weapons on Wednesday, 9 March, and Saturday, 12 March, causing hundreds to flee the area with security forces and hospital staff scrambling to assist residents. The wounded are suffering from infected burns, suffocation and dehydration, according to health officials in the area.
"There is fear and panic among the women and children," said Adel Hussein, a local official in Taza according to the AP. "They're calling for the central government to save them."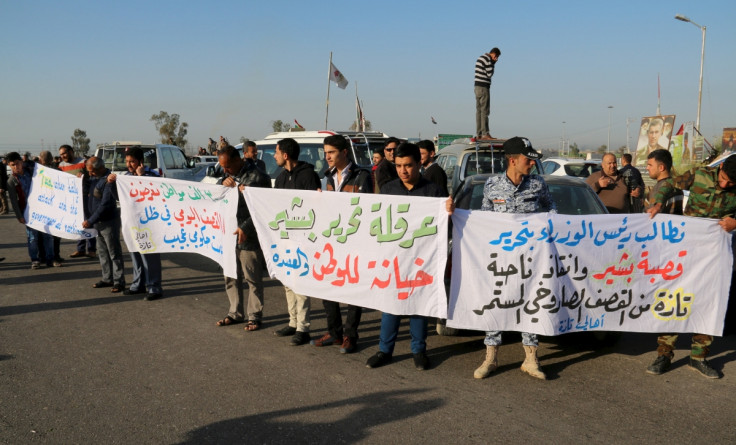 Taza was probably targeted because of its population consisting of mainly Shi'ite Muslims who are despised by the Sunni Isis (Daesh). The settlement became the site of one of the most deadly explosions in Iraqi history when 30 homes were destroyed and 200 killed in an attack which no group has claimed sole responsibility for.
According to Hussein German and American forensics teams arrived in the area to test for the presence of chemical agents. Eight people are believed to have been transferred to Baghdad for further treatment.
The US-led coalition in Iraq, which includes the UK, believes that IS have used chlorine gas and a low-grade sulphur mustard gas agent. "It's a legitimate threat. It's not a high threat. We're not, frankly, losing too much sleep over it," US Army Colonel Steve Warren said.
The intelligence gained from al-Afari has triggered two recent US air strikes against toxic weapons sites operated by IS, the US Department of Defence said this week. Based on the new intelligence the US launched an airstrike against a IS chemical weapons production plant in Mosul in Iraq, and another against a "tactical unit" near Mosul.
In February, IS launched a suspected chemical attack against dozens of Peshmerga militants who suffered from vomiting, dizziness and difficulty breathing after improvised rockets struck. The strike landed in an area south of Sinjar, a north west town about 50km (31 miles) from the Syrian border, according to the Kurdistan Region Security Council (KRSC).
On 9 March, US special forces announced the capture of the head of an IS unit trying to develop chemical weapons in a raid in northern Iraq in February. The former official with the Saddam Hussein Baathist regime, Sleiman Daoud al-Afari, was apprehended after a number of chemical attacks in the region.