Islamic State (Isis) has claimed responsibility for a series of explosions carried out in Baghdad on 2 January, the day of French President Francois Hollande's visited to the Iraqi capital.
A car bomb exploded in the Sadr City district market square, killing at least 35 people and injuring around sixty others. An online statement published by Amaq news agency, the Isis media channel, said that the target was a group of Shia Muslims.
The bomber pretended to be a man seeking to hire day workers and, once the labourers gathered around, he detonated the vehicle, Prime Minister Haider al-Abadi said at a press conference with Hollande.
Another seven civilians died and 30 were injured in three smaller, separate bombings in eastern parts of the city on 2 January, according to medics and police officials who spoke to the AP on conditions of anonymity because they were not authorised to brief reporters.
In his visit, Hollande spoke about the close co-operation between Paris and Baghdad in fighting terrorism.
"Everything that contributes to reconstructing Iraq is an additional step to avoiding Daesh strikes on our own territory," he said, using an Arabic term for Isis.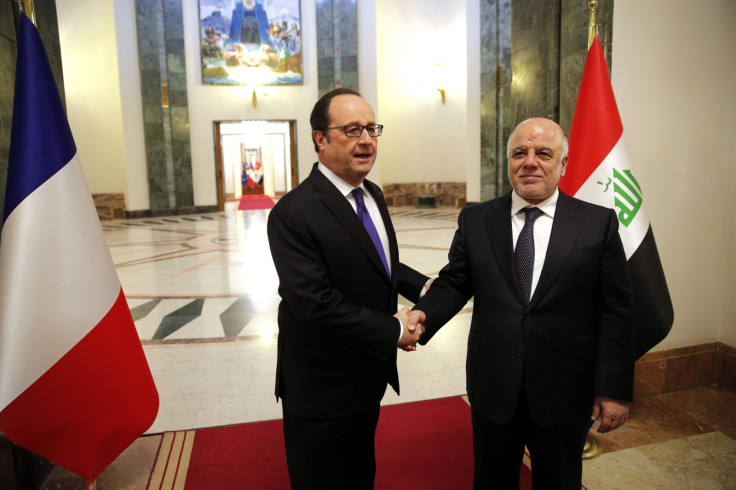 Hollande also visited the Kurdish city of Erbil, which is hosting thousands of people who have escaped from the Isis-held northern city of Mosul. French officials said they delivered around 38 tonnes of humanitarian supplies.
France is part of the US-led coalition supporting Iraqi forces fighting Isis militants in Mosul, the militants' last major stronghold in the country. The offensive to retake Iraq's second largest city started on 17 October and the Iraqi forces claim to have recaptured 60% of the eastern part of the city.
Islamist militants claim to have launched a counter-offensive targeting positions away from the main battlefield, killing at least 16 pro-government forces and cutting a strategic supply route between Mosul and Baiji, a city in between Mosul and Baghdad, on 2 January.