Islamic State (Isis) has claimed responsibility for the New Year attack on a nightclub in Istanbul, via a statement in Arabic and Turkish via its news agencies on 2 January.
"In continuation of the blessed operations that Islamic State is conducting against the protector of the cross, Turkey, a heroic soldier of the caliphate struck one of the most famous nightclubs where the Christians celebrate their apostate holiday," the statement said, as quoted by Reuters.
The statement claimed the attack is revenge for Turkish airstrikes against Isis targets in northern Syria. Kurdish news agency Rudaw added that Isis threatened more attacks against the country.
The Turkish military is conducting an operation against Isis positions in northern Syria, where it has recently received support from Russian air force. On Monday, they claimed to have killed 22 Isis fighters.
"The fact that Isis did claim responsibility for the attack is significant in itself, as the group never claims mass-casualty attacks," geopolitical and security analyst Michael Horowitz, director of intelligence at Prime Sources, commented on Twitter. "This confirms that we are in a new phase of 'open war', where Isis feels it can operate more 'openly' on Turkish soil," he added.
The Turkish police is still looking for the person responsible for the Istanbul attack. Citing security sources, Turkish media reported that the authorities believe he comes from a Central Asian nation, either Uzbekistan or Kyrgyzstan.
Prime Minister Binali Yildirim said the attacker left a gun at the club and escaped by "taking advantage of the chaos" that ensued. CCTV showed the killer opening fire outside Reina nightclub club and he appeared to remove some of his clothes while dead victims surrounded him on the dancefloor.
The gunman opened fire during the New Year's celebration at the popular Reina nightclub in Istanbul, killing at least 35 people and injuring 69 others. Two thirds of the victims were foreign nationals, with many arriving from Middle Eastern countries.
Authorities identified the victims as eleven Turkish nationals and one Turkish-Belgian dual-national. Seven victims were from Saudi Arabia, three from Lebanon and three Kurdish Iraqis. Tunisia, India, Morocco and Jordan each lost two nationals, while Kuwait, Canada, Israel, Syria and Russia each mourn the loss of one of their citizens.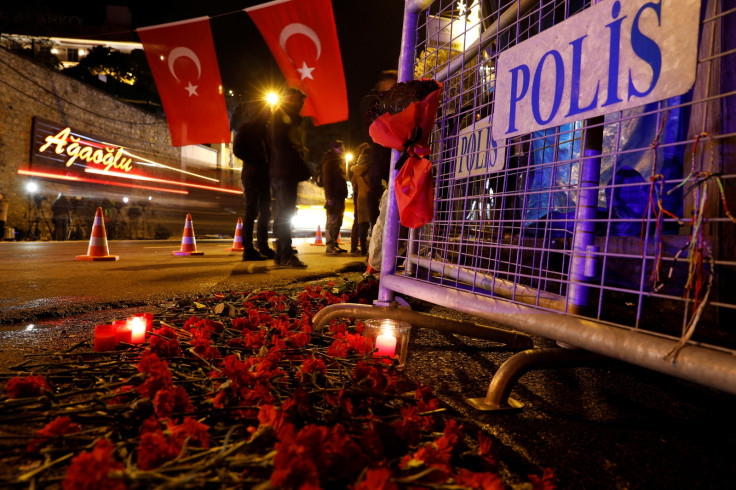 The Site Institute, which monitors terrorist groups, warned that Isis was undertaking a new campaign of attacks, in particular against Turkey due to its campaign against Islamists in Syria.
In December, Isis released a video showing the killing of two Turkish soldiers captured in northern Syria and urged its supporters to "conquer" Istanbul, although Turkish authorities have disputed the authenticity of the video. Isis leader Abu Bakr al-Baghdadi said his followers must "seek help in Allah and attack Turkey, turn their security into panic, and their calm into chaos".
Isis is believed to have several cells in the country, which the police believe are linked to the suicide bombings in Istanbul in January and March targeting tourists as well as high-casualty suicide bomb and gun attack at Istanbul's Ataturk Airport in June. Police are investigating whether the same terrorist cell could have carried out both attacks, Turkish media reported.
Turkish police had suspected Isis militants to be planning an attack on New Year's Eve and had made eight arrests on 31 December in the capital Ankara, seizing several documents at the locations of the arrests.