In about two months since the launch of the massive Mosul offensive to retake the city from Islamic State (Isis) militants, Iraqi troops have regained control over more than 60% of eastern Mosul, a top Iraqi commander said on Sunday (1 January).
But more civilians occupy the western part of the town, where the Iraqi forces are yet to enter and penetrate, Staff Lt Gen Abdulwahab al-Saadi of Iraq's Counter-Terrorism Service (CTS) told Agence France Presse.
The ongoing fight to drive out the jihadists from their last major stronghold in Iraq has so far been concentrated on east Mosul. The Islamist militant group tried to reinforce east Mosul using explosives-rigged vehicles, the commander said, adding that CTS soldiers and other forces deployed inside the city have been visiting every house, dodging sniper fire, suicide car bombs and booby traps to retake one neighbourhood after another.
On Saturday (31 December, 2016), the elite Iraqi counter-terrorism unit joined forces with another elite unit, the Rapid Response Division, on the border of the adjoining Al-Intisar and Al-Quds areas in eastern Mosul. They will now jointly advance to retake the remainder of the eastern city, the Middle East Eye quoted a senior officer as saying.
In its attempt to establish a so-called Islamic caliphate, Isis had taken control over large areas in north and west of Baghdad in 2014, but Iraqi forces fought the militants and have regained much of the territory.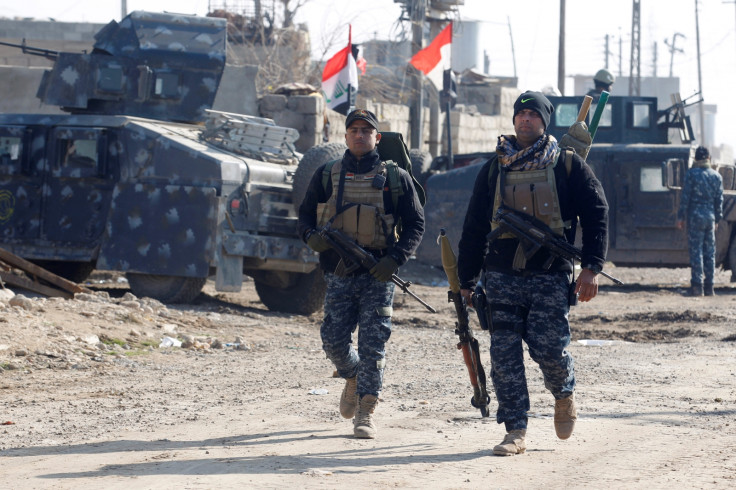 Mosul remains the last Iraqi city where the terrorist group has still held significant territory. The Iraqi government, led by Prime Minister Haider al-Abadi, launched an offensive to retake Mosul in mid-October and has since been marching further into the city. The prime minister had wanted the operation to conclude by the end of 2016, but realising the uphill task, he has extended the expected deadline to another three months.
Iraqi forces announced the "second phase" of their Mosul battle to retake all of east Mosul on Thursday (29 December, 2016).
Apart from Mosul, the militants also control parts of western Anbar province, from where they mount frequent attacks in government-held areas, especially Baghdad, the news portal reported.