Isis 'Execute Dozens of Syrian Soldiers'
The Islamic State (known as Isis) has executed dozens of Syrian soldiers in the northern region of Syria according to the London-based Syrian Observatory for Human Rights.
"Dozens of Syrian soldiers captured while fleeing... after the IS overran Tabqa airbase were executed by the jihadists during the night," said Rami Abdel Rahman, head of the monitoring group.
Jihadists boasted on Twitter that they had killed 200 troops belonging to president Bashar al-Assad. The claim could not be independently verified.
A video emerged on YouTube allegedly showing more than 100 captives in custody of Isis being forced to march in their underwear at gunpoint in the desert. In the footage, filmed by Isis militants, the men are escorted by armoured vehicles of the Islamic State. At one point, they are forced to pledge allegiance to the self-proclaimed Islamic caliphate headed by Abu Bakr al-Baghdadi.
Then, jihadists push them to run at the sounds of "Yalla! Yalla!". The Isis cameraman even emits sounds that shepherds use to lead their flock of sheep as a further sign of humiliation.
The jihadists took over the Tabqa airport in Raqqa, northern Syria, after weeks of fighting with Assad troops. More than 500 people were killed in clashes, according to the Syrian Observatory.
Tabqa was Assad's last resort in an area controlled by the Sunni militants, who have seized large swaths of land between Syria and Iraq. Photos that emerged online showed a group of militants in balaclavas shooting dead at least seven men identified as Syrian army. Other photos showed groups of eight to 10 soldiers taken hostage.
Syrian state television said the military was "regrouping" and that there was a "successful evacuation of the airport", according to Reuters.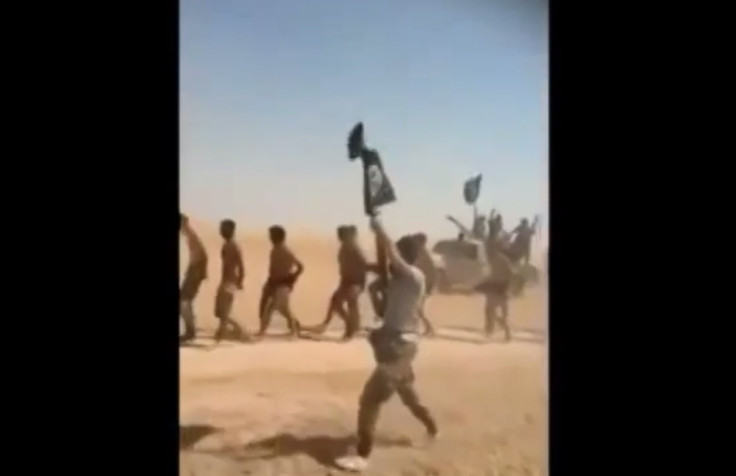 © Copyright IBTimes 2023. All rights reserved.