The Islamic State (Isis) has executed an al-Qaeda commander in Syria as an uneasy truce threatens to lead to all-out conflict between the militant groups. Isis killed a suspected al-Qaeda commander after claiming he had planned to be behind several assassination plots against Isis chiefs.
The once fierce al-Qaeda has been drained of recruits and money, territory and prestige by Daesh with 63-year-old leader Ayman al-Zawahiri cut off from commanders fighting in Syria. Jihadists have been lured away with promises of better weaponry and more glory.
Al-Qaeda, once led by Osama Bin Laden, had cut ties with Isis in late 2013 after a power struggle with chief Abu Bakr al-Baghdadi, although ideologically similar power struggles between the two groups have now resulted in executions.
A senior commander said to be named Abu Mujahid al-Baqai, was accused of organising attempted assassinations on Isis members in Yarmouk, Syria. He fought with the al-Qaeda affiliate, Jabhat al-Nusra, and was videoed being executed with a gunshot to the back of his head and released in a trademark Isis report after being captured in Damascus province.
The video released by the jihadists also featured the execution of a Syrian Army soldier captured after the recent battle for the ancient city of Palmyra.
The power struggle began when al-Baghdadi reportedly disobeyed orders from network leader al-Zawahri not to operate independently from al-Nusra in Syria. Baghdadi reportedly dismissed the orders and attempted to merge the two branches – essentially making al-Baghdadi the leader of both.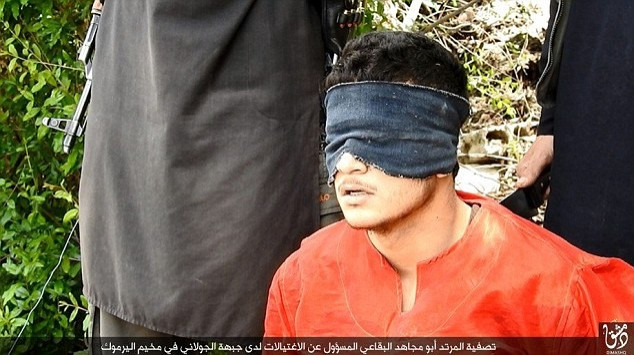 The two factions emerged as the largest Islamist militant groups as the Syrian Civil War descended into nationwide chaos. Over time, Isis eclipsed al-Nusra in many areas in the north and the west of the country.
Isis has now developed a global network of affiliates, most notably in Libya, in Nigeria with Boko Haram and the Philippines with Abu Sayyaf. IS Leaders call al-Qaeda a "drowned enemy" in issue six of their official English-language magazine, Dabiq and added that they will put up with no rival in their territories.
Isis also has a presence in Afghanistan, once home to thousands of al-Qaeda fighters but has struggled to win support in the country with the Taliban condemning the foreigners for their brutality.