US Defense Secretary Ash Carter arrived in Baghdad on Saturday, 22 October to assess the ongoing offensive to recapture Mosul from the Islamic State (Isis) amid reports of mass executions by the militants in the region. Reports have also emerged that Iraqi army units entered the centre of Qaraqosh, about 20km southeast of Mosul, and are clearing up the explosive-rigged town.
An Iraqi intelligence source told CNN that IS (Deash) has executed 284 men and boys in Mosul area on Thursday (20 October) and Friday (21 October), whom they were using as human shields to flee from the cities under attack by Iraqi and coalition forces.
The source added that all the corpses have dumped in a mass grave near the site of execution. Isis used a bulldozer to dump the bodies at the Mosul's defunct College of Agriculture in the north of the city, the intelligence source told the news channel, noting that all of the victims were shot. The victims also included some children, the person said. However, CNN stated it could not independently verify the claims.
Meanwhile, Carter is set to meet Iraqi Prime Minister Haider al-Abadi to together assess the ongoing campaign to liberate Mosul from Isis, Reuters reported.
The offensive was launched on Monday (17 October), in which US-led coalition forces are providing air and ground support to the Iraqi forces.
A latest military statement reportedly stated that Iraqi special units have stormed into the Christian town of Qaraqosh. It added that the army is also trying to advance from the south and the east of Mosul. Kurdish Peshmerga forces are reportedly holding fronts in the east and north of the city.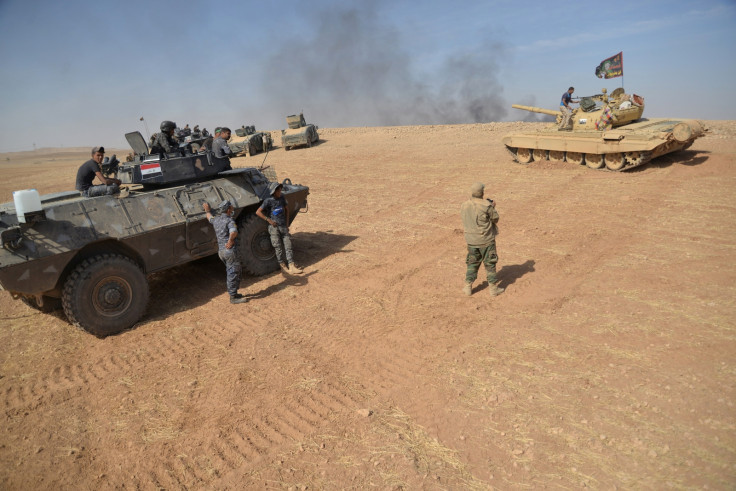 So far, the army has recaptured about 50 villages near Mosul since the offensive was launched earlier in the week, the army's media office reportedly said. The troops are now preparing for their main battle in Mosul, which is being touted as the biggest battle against the terrorist group.
"It's the beginning of the campaign. We do feel positively about how things have started off, particularly with the complicated nature of this operation," Reuters quoted a US official who briefed reporters ahead of Carter's Baghdad visit.