The Islamic State (Isis) has released another sick video in which alleged spies are executed in the street with mounted cameras mimicking "first-person shooter" game angles. The new video, entitled Harvest of the Spies was released on Wednesday 27 April on the terror group's own propaganda channel 'Wilayat ar-Raqqah' or 'Province of Raqqa'.
The murders were said to have taken place in the de-facto capital of the extremist's self-declared caliphate, Raqqa, in northern Syria. Daesh (Isis) have released a string of new videos over the last month as their territory decreases under pressure from US-led airstrikes, Kurdish militias and the Iraqi and Syrian armies.
Experts believe that the recent series of videos are desperate attempts by the jihadists to attract more marginalised Muslims in the west and cover up the declining power of the self-declared caliphate. These types of executions for spies have become commonplace in Isis-held cities like Mosul, Fallujah and Deir ez-Zor.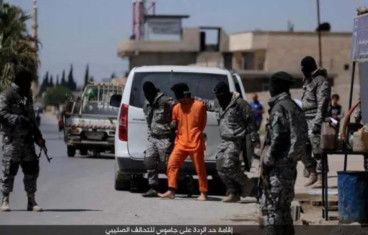 On 17 April, the extremists released a propaganda video featuring a montage of brutal killings in besieged Fallujah with one alleged spy having his head blown by an exploding necklace. The video called "Where to Flee" featured beheadings, gun executions and one particularly brutal death with alleged spies acting out their own crimes.
Brutal crucifixion
In their latest 'report' Isis took photographs showing two men being condemned to crucifixion in front of a crowd in the city. Dressed by the jihadis in trademark orange boiler suits, their crimes are announced before they are murdered.
In the slickly-produced report both men are placed on makeshift crosses by militants then blindfolded. They are both shot at point blank range with handguns before having a placard with a warning written in Arabic placed on their chests.
The close range execution was recorded with a camera mounted on killers chest seen in so-called "first person shooter" video games.
US and Russian air strikes have damaged the finances and manpower of the extremists and recently in the city where 'Jihadi John' was bombed to death blankets have been placed above the city to protect fighters.