Isis: French Muslims Protest Against Islamic State 'Barbarism'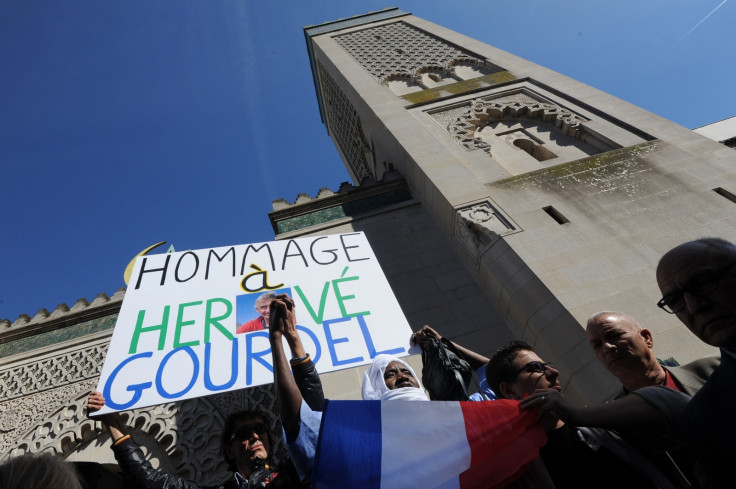 French Muslims took to the streets to demonstrate against Islamic State (also known as Isis) militants, after a French mountaineer was kidnapped and beheaded by extremists in Algeria.
Hundreds of people gathered in front of Paris Grand Mosque after the traditional Friday prayers, responding to religious leaders who called for Europe's largest Muslim community to speak out against extremism.
"We, Muslims of France, say stop to barbarism," said Dalil Boubakeur, chairman of the French Council of the Muslim Faith (CFCM).
Attendees chanted: "Daesh [IS Arabic name] murderers", and held banners commemorating Hervé Gourdel, a 55-year-old mountaineer from Nice, killed by Islamist militants in Algeria.
Gourdel was seized by Isis-affiliate group Jund al-Khilafah (Soldiers of the Caliphate) in the north-east area of Kabylie earlier this week and executed shortly afterwards.
A video of the beheading, reminiscent of those showing the killings of two US journalists and a British aid worker in Syria, was posted online.
Paris's protest came in the wake of the launch of a social media campaign by British Muslims, using the hashtag 'Notinmyname' in response to IS militants who have declared a caliphate in the Middle East claiming to represent all Muslims.
A twin demonstration was set to take place in Lyon in the evening.
Similar rallies were held in Germany's main cities last week.
© Copyright IBTimes 2023. All rights reserved.