Isis in Iraq: Christians tortured in churches, photos show men being whipped for drinking wine
A man was also whipped for committing adultery in Syria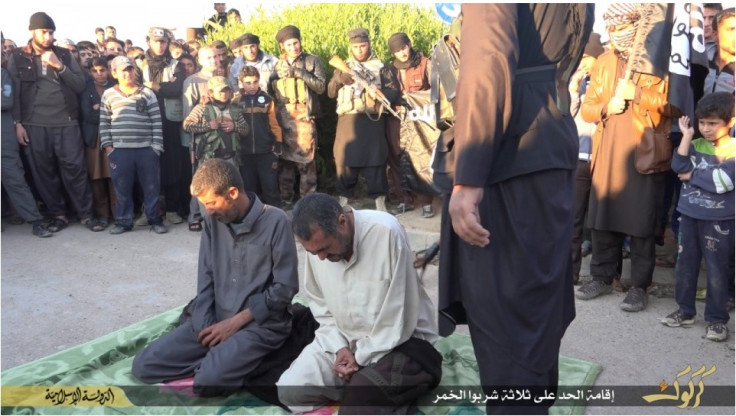 Iraqi Christians are reportedly being tortured in local churches by Islamic State in northern Iraq.
In an interview with the Sunday Times, a Christian resident from the Islamic State-held city of Mosul, said: "These two churches are being used as prisons and for torture. Three of the Christian prisoners died because they were sick and nobody cared for them."
The man, known as Abu Aasi, claims that Christian prisoners in the churches are being forced to convert and that Islamic State have been "breaking all the crosses and statues of Mary".
Whilst the claim could not be independently verified, thousands of Christians have fled Mosul since the city was seized by Islamic State in August 2014.
Faced with the prospect of conversion, paying a special tax or execution, up to 20,000 Christians reportedly fled Mosul in just 45 days, according to a UN report.
Islamic State's determination to impose its radical interpretation of Shariah law has left many local civilians living in fear.
Photos have been released by Islamic State showing the harsh measures being imposed by the extremist group. Images show three men being whipped for drinking wine in Iraq. According to the local Islamic State media branch, the punishment took place in the Iraqi province of Kirkuk.
The photos show a large crowd of men, including a number of young boys, stand in a circle watching the punishment. Several of the crowd are holding the black flag of Islamic State whilst a number of Islamic State fighters stand guard.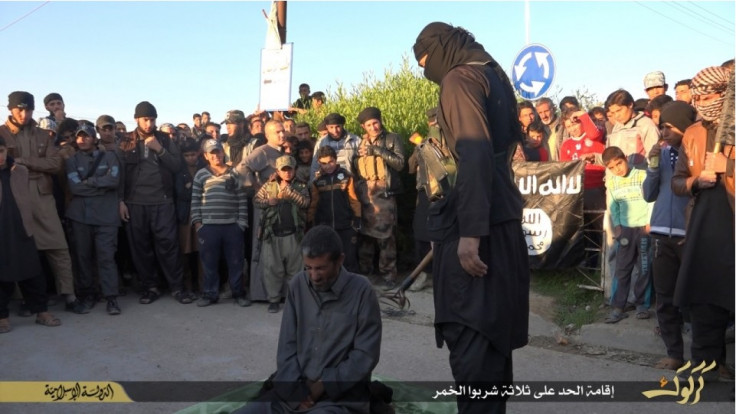 Kneeling on a large green patterned carpet, the three men are shown with their hands unbound, resting on their laps. All three of the men appear to be in their late 40s and can be seen staring down at the ground.
A masked Islamic State fighter, wearing all black clothes is pictured whipping each man a number of times. The whip appears to be about half an arm's length in size and made of leather. Secured with black tape, the tails of the whip are shown connecting sharply with the covered skin of each man.
The final photo shows the victims being hugged by another Islamic State fighter, carrying an AK-47.
Photos have also emerged of a man accused of adultery, being whipped in the Syrian town of Manbij.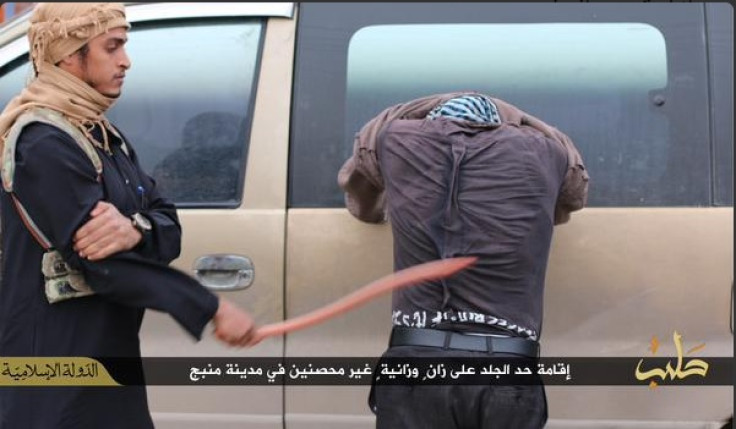 The photos shows a bearded Islamic State fighter, reading out the crimes of the accused over a microphone. The man is shown with his robe pulled over his head to reveal his back. Leaning against a pickup truck, the man is whipped by an Islamic State fighter.
Like the photos of the three men in Kirkuk being whipped for drinking wine, the final photo shows the adulterer embracing Islamic State fighter who read out his crimes.
© Copyright IBTimes 2023. All rights reserved.