The latest issue of the Islamic State (Isis)'s English-language magazine Dabiq features an interview with the alleged killer of Tunisian secular party leader Mohamed Brahmi, who was shot dead in Tunis in 2013.
The jihadist, named as Abu Muqatil at-Tunisi (aka Bubakr al-Hakim), acknowledged murdering Brahmi to "create chaos" in Tunisia with the aim of facilitating the movements of mujahedeen and weapons from neighbouring Libya.
The 58-year-old leader of the nationalist Movement of the People party was killed by a motorcycle gunman inside his car in front of his wife and daughter. The assassination came after the killing of prominent secular politician Chokri Belaid, which sparked mass protests and forced prime minister of the time, Hamadi Jebali, to resign.
Interior Minister Lotfi Ben Jeddou claimed Brahmi and Belaid were killed by the same group. He alleged the gunman was Hakim, identified as a 30-year-old French-born weapons smuggler. Police raided Hakim's home and found handguns, explosives and 90 rounds of ammunition.
In his interview with IS magazine, Hakim claimed Brahmi was also killed for his role in the National Constituent Assembly, which was tasked to drafting the country's new constitution. Before the murder, the jihadist spent seven years in a French prison on terrorism charges. Then, Hakim went back to Tunisia and smuggled arms from Libya, where he also set up a training camp.
The killing of secular politicians in the north African country after the 2011 uprising that toppled dictator Zine El-Abidine Ben Ali, failed on its purpose to disseminate chaos because "some of those associated with jihād there went out and defended the former government institutions and thereby ruined our mission".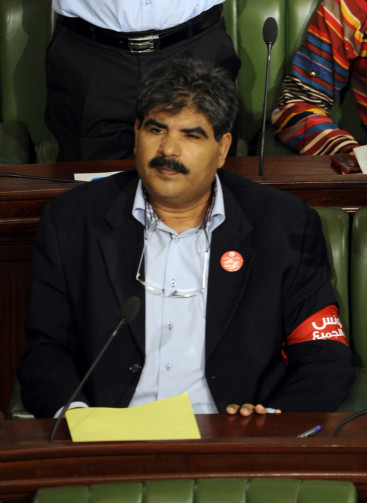 The reference seems to be with moderate Islamist Ennahda movement, which was the ruling party at the time. The family of Brahmi accused Ennahda of being behind the killing as both Belaid and Brahmi were leftists critical of the Islamist party.
However, Ennahda quickly expressed sympathy with the victims and condemned the crimes as "cowardly and despicable acts". After the botched attempts of a coup in Tunisia, Hakim joined IS in Syria.
The new Dabiq edition also promotes the recent attacks of its fighters at the Bardo Museum in Tunisia and Houthi mosques in Yemen. Islamist militants killed 21 foreign tourists and a policeman in the 18 March attack on the landmark Bardo national museum in Tunis.
"In the city of Tunis, two soldiers of the Islamic State carried out an assault on kāfir [unbeliever] tourists in the Bardo National Museum. The two mujāhidīn, Abū Zakariyyā at-Tūnusī and Abū Anas at-Tūnusī, were sent on their mission after having trained with their brothers in Libya," the Dabiq article said.
Three suicide bombings targeting Houthi Muslims in Yemen's Sana'a left 137 people dead and 345 injured. Houthis are Shi'ite, thus considered blasphemous according to the strict IS interpretation of Islam.