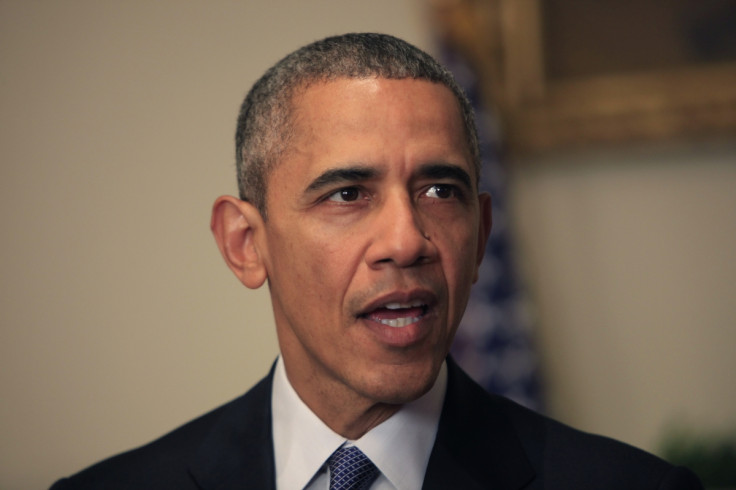 US President Barack Obama is set to visit the Pentagon and the National Counterterrorism Center to assuage concerns regarding the military strategy against the Islamic State (Isis). Obama will also use the visits to review the campaign against Isis (Daesh) with his national security advisers.
Josh Earnest, White House press secretary, told reporters on 11 December that the meeting will not likely result in any major policy shifts but is meant to be more of an update. "They're always assessing whether or not there are some intensifications that can be used to benefit our strategy, but there is no specific announcement of a change that I know of that's planned for Monday (14 December), but we will see what the meeting yields," Earnest said. The president is expected to give a comment after the meeting.
In his weekly radio and Internet address, Obama took aim at the policy propositions promoted by Republican presidential frontrunner Donald Trump. He also used the 12 December address to reiterate that the US is committed to destroying Daesh.
"Our air strikes are hitting Isil harder than ever, in Iraq and Syria," Obama said using another name for Daesh. "We're taking out more of their fighters and leaders, their weapons, their oil tankers. Our special operations forces are on the ground — because we're going to hunt down these terrorists wherever they try to hide." He said that in the following week, "we'll move forward on all fronts."
Similar to remarks he made during a rare Oval Office address, Obama called on Americans to reject bigotry against Muslims in the US and abroad. "Terrorists like Isil are trying to divide us along lines of religion and background. That's how they stoke fear. That's how they recruit. And just as Muslims around the world have to keep rejecting any twisted interpretation of Islam, all of us have to reject bigotry — in all of its forms. I'll say it again, prejudice and discrimination helps Isil and it undermines our national security."
According to CNN, Defense Secretary Ash Carter said the president will be briefed by advisors from the Defense Department, State Department, as well as representatives from the intelligence community, Homeland Security and law enforcement. "I expect him both to hear what we're doing, and continue to say what he's told me and Gen. (Joseph) Dunford, certainly for the military campaign, which is that he wants us to continue to come to him with proposals for ways that we can strengthen the campaign consistent with our overall strategic approach," Carter said on 11 December.
The president has stepped up his attempts to counterpoint Republican presidential candidates, particularly Donald Trump following his call to ban Muslims from temporarily entering the US. According to The Washington Post, the White House scheduled a conference call with religious leaders to discuss ways to fight discrimination and promote religious tolerance. Obama is scheduled to visit the Pentagon on 14 December, followed by a speaking engagement at the National Archives Museum where 31 immigrants will be sworn in as US citizens on 15 December and a visit to the National Counterterrorism Center before heading to Hawaii on vacation.