Royal Air Force Tornado jets have attacked terror group Isis - also known as Daesh - using Brimstone missiles in Syria for the first time since Parliament approved extending the fight against the terror group into Syria on 2 December (2015). A control centre, tunnels, cranes and vehicles were attacked near the Isis stronghold of Raqqa on Sunday (10 January). There was no information about casualties.
Last week the RAF had mostly been conducting strikes in neighbouring Iraq, hitting Isis positions in and around Haditha, Ramadi, Sinjar and Mosul with drones and Paveway missiles. Targets included armoured personnel carriers, machine gun positions and accommodation blocks used by the group.
In a statement issued on 11 January, the UK government said: "On Sunday 10 January, the focus turned to a series of targets inside Syria. Near Raqqa, a pair of Tornados bombed a pair of Daesh-held buildings, one of which was a confirmed command and control centre, and used a Brimstone missile to destroy a supply truck. A second pair of GR4s dropped four Paveway IVs on a tunnel complex, again near Raqqa, whilst a Reaper engaged a terrorist position with a Hellfire missile.
"During the evening, a further Tornado flight and a Reaper used a combination of Brimstone and Hellfire missiles to attack a number of mobile cranes brought in by Daesh to attempt to repair the severe damage inflicted by previous RAF and coalition air strikes on the Omar oil field."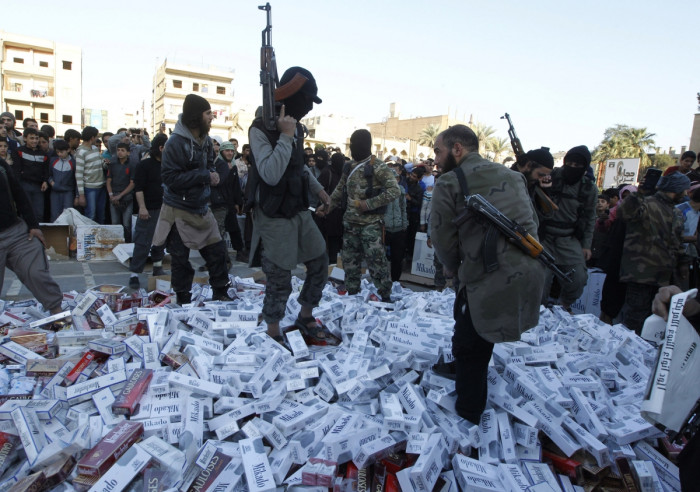 Brimstone missiles - each costing around £100,000 - are said to be one of the most accurate missiles available and only Britain and Saudi Arabia have them. However despite MPs voting overwhelmingly to support air strikes in Syria in December, before this latest operation, the RAF had conducted just 10 operations within the country due to a lack of clear targets which would not endanger civilians.
Defence secretary Michael Fallon said: "Britain is playing a key role in the fight against Daesh, whether helping Iraqi ground forces retake Ramadi or by striking targets near its Raqqa heartland. Our Reaper drones have now flown 1,000 missions against Daesh and we will maintain this tempo with RAF pilots flying day and night over Iraq and Syria."
Daesh continues to occupy a sizeable chunk of territory across Syria and Iraq - the group's so-called Islamic Caliphate - despite being attacked by a wide array of forces. Ordinary citizens are at risk from both Isis and forces loyal to President al-Assad, forcing millions to flee the country. Around 230,000 people have died during Syria's five-year civil war.