Islamist militant group Isis (now known as the Islamic State) have released a high-quality trailer which warns the United States against putting boots on the ground in the terror organisation's heartland of Iraq and Syria.
The 52-second clip presents a preview of what is set to be a longer film, entitled Flames of War, with the subtitle 'Fighting has just begun'.
The video, released by the group's media wing the 'Al Hayat Media Center', shows what is believed to be an American tank being blown up, along with an American troop, and another injured US troop being carried by colleagues into a vehicle.
The footage shows clips of the White House and US President Barack Obama remarking that "combat troops will not be returning to fight in Iraq".
It proceeds to show a clip of an Islamic State militant holding a gun over prisoners kneeling in front of him before the message that the video is "coming soon".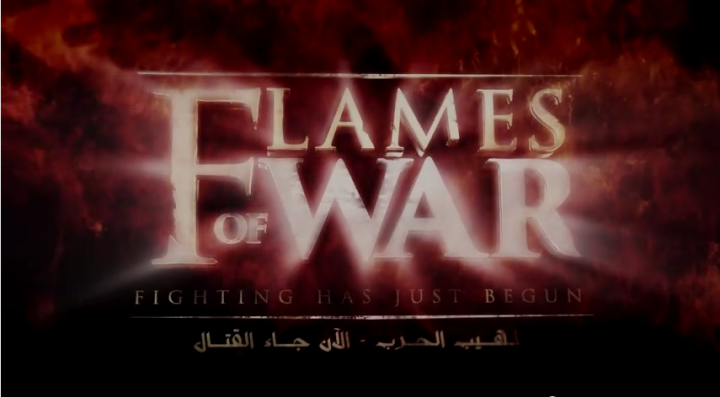 The clip comes just hours after Obama's top military adviser, chairman of the Joint Chiefs of Staff, Gen. Martin E Dempsey, said that he would not rule out military troops fighting the group on the ground. He added that America, as part of an "appropriate" international coalition, would defeat the Islamic State.
"But if it fails to be true, and if there are threats to the United States, then I, of course, would go back to the president and make a recommendation that may include the use of US military ground forces," he said.
"If we reach the point where I believe our advisers should accompany Iraqi troops on attacks against specific [Isis] targets, I will recommend that to the president."
The video continues the group's strategy of presenting itself to a western audience via social media outlets such as Twitter, Facebook and YouTube. In the last month, the group have posted three videos showing the murders of two American journalists and one British aid worker.
Laith Alkhouri, senior analyst at Flashpoint Global Partners, said that the Islamic State "appears to be more relentless than ever, not only expanding in territory but also raising the bar in its confrontation with the world's top superpower."
"In some ways, it's attempting to prove to jihadists that while Al Qaeda is missing in action, we are rising to the occasion," he said, as quoted in the New York Times.
"It demonstrates the true intention of the group, to operate on an international level."
The previous videos intended for a western audience were entitled A Message to America; A Second Message to America; and A Message to the Allies of America respectively.