A Kurdish captive has allegedly been executed by Islamic State (Isis) members according to the latest IS propaganda video in Kurdish language, which aims at recruiting potential jihadists in the Iraqi Kurdistan region.
The video, entitled A message to the people of Kurdistan, features an Iraqi Kurd top military commander, known by the nom de guerre of Abu Khattab al-Kurdi, who helped IS in the battle against fellow Kurds in the Syrian border town of Kobani.
Al-Kurdi, who appears in the video along with his son holding a gun, was reportedly killed at the end of February during clashes with the Kurdish forces, which managed to retake the town.
The clip, which also features other Kurdish-speaking jihadists, confirms his demise saying "May Allah accept him". Towards the end of the video, a Kurdish-speaking hostage, dressed in a yellow jumpsuit, is shot dead at close range by an IS militant.
IS has been struggling to contain the Kurdish anti-jihadist offensive in Syria and Iraq.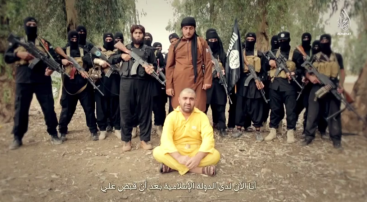 The peshmerga have emerged as the main partner for the US-led coalition in its campaign to "degrade and destroy" the extremist group, which has been pushed back in northern Iraq with the help of airstrikes.
Last week, IS released a video in which Kurdish-speaking militants of the jihadist group appear to behead three members of the Kurdish peshmerga forces in northern Iraq.
The Kurdish hostages, wearing the Guantanamo-like orange jumpsuit, are executed in three different locations by the black-clad IS fighters, who are speaking Sorani (central Kurdish dialect).
One of the militants is depicted as saying: "To the Muslim Kurdish people: know that our war is not with you, rather it is with those who ventured into an alliance with the Safavids and crusaders to wage war on the Muslims" before engaging in the decapitation with knives. Safavids is a derogatory terms to refer to Iran.
Another militant addresses Kurdish leader Masoud Barzani: "We warned you before that for every rocket you fire on those under the care of the Islamic State, you will kill one of your prisoners with your own hands."
The beheading video comes after IS militants released footage showing 21 Kurdish peshmerga fighters being paraded through the streets of Kirkuk province.
Several men in cages are depicted while being interviewed by an IS militant holding a microphone with the group's insignia. Then, they are driven through cheering crowds of an unspecified city in Iraq's Kirkuk.