Isis has unleashed a wave of female suicide bombers targeting enemy troops and civilians as it clings on to its last remaining patch of Iraqi soil.
At least 20 women, believed to be mostly foreign jihadi brides, have detonated explosive vests in Mosul in the last few days, according to an Iraqi intelligence source who spoke to The Times.
Until now, Isis has rarely employed female combatants – women have ordinarily performed domestic duties and also been used for propaganda purposes.
The source said 38 female suicide bombers had blown themselves up inside Mosul in the last month, suggesting an air of desperation within the so-called caliphate.
Isis's territory in Iraq has been reduced to a 250m by 500m corner of Mosul by the River Tigris.
The female bombers are reported to have hid among residents fleeing the city and then detonated their vests hidden underneath their burkas at various military and civilian targets.
Iraqi forces are forcing women to remove their face veils in a bid to help identify suicide bombers as they approach military lines.
"We are facing more suicide attacks than ever, and we are demanding all women fleeing the old city to remove their niqabs," said one soldier.
"Most of the bombers are foreigners from Arab countries who joined Isis in Iraq," he added.
Zuhair al-Juburi, the leader of Mosul's city council, said the women were mostly foreign brides that had chosen to die rather than be arrested by the advancing Iraqi army, which is backed by US air power.
"One of the suicide bombers was Tunisian," he said. "She blew herself up among displaced people in the Old City."
That woman was oneg of seven who blew themselves up in the Old City on Monday, killing at least 11 civilians and an undisclosed number of troops.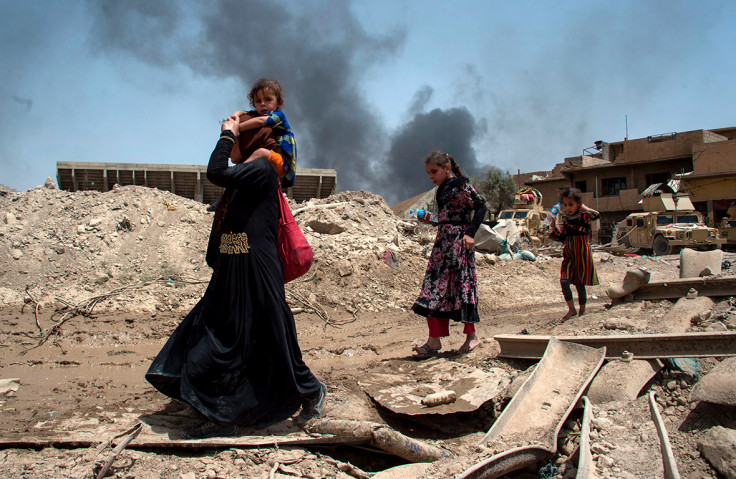 The Old City was home to the Great Mosque of al-Nuri, an Isis totem from which Abu Bakr al-Baghdadi declared the so-called caliphate in 2014.
The mosque was blown up by Isis on 21 June. Days later the remains were captured by government forces.