Shocking Isis propaganda video shows child soldiers beheading prisoners in Iraq
The video threatens encourages Muslims to carry out lone wolf attacks in America, Europe, and Russia.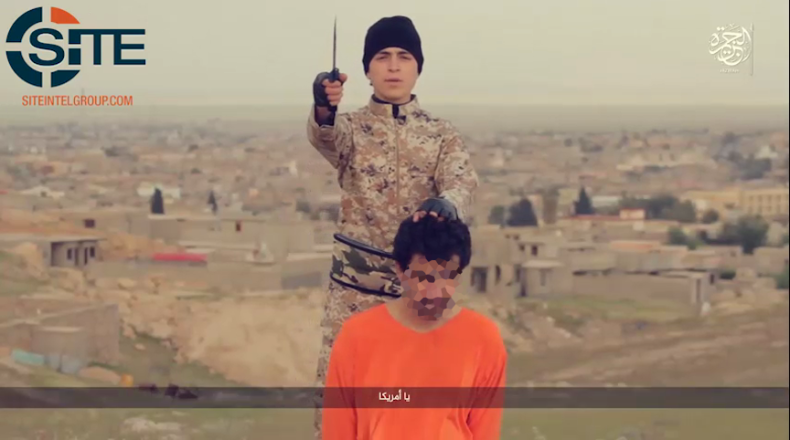 Islamic State (IS) in Iraq has released a grizzly video featuring Iranian, Russian, Turkish, and Turkmen children brutally executing prisoners and calling for and threatening attacks in their native lands and the West.
The 14 minute, 23 second video, entitled, "They Left Their Beds Empty," was issued on July 4, 2017.
Opening with scenes of war, destruction, and dead and charred bodies of children, the production then shows child fighters giving speeches, one before firing a rocket, and others before slitting the throats and beheading alleged spies.
One of the children, identified as "'Umar al-Faruq at-Turki," incited Muslims in America, Europe, and Russia to carry out lone-wolf attacks, stating:
O America, O Europe, O Russia, Germany, France, and Turkey and all who participate in and seek to wage war against the Islamic State and witnessed horror and panic stricken you in your own backyards, that is but a small portion of the long bill awaiting you, Allah permitting.

O truthful monotheists in Europe, America, Turkey, and the lands of the tyrants, what is your excuse for not catching up with the land of Islam and your State? You let down your State in the backyards of the disbelievers. Allah will question you and ask what you presented to support your religion.
The Russian child, "Khattab ar-Rusi," said before beheading a prisoner:
"O Russia! You think yourself safe while you wage war against the State of the Caliphate today? We will enter upon you from every place and we will kill you, Allah permitting".