Isis surrounded in Raqqa as final escape route 'cut off' by US-backed SDF fighters
Monitors say that the SDF had 'encircled' Raqqa, the de-facto capital of the Isis fiefdom.
Isis have been surrounded in their de facto capital of Raqqa, in Syria, by US-backed forces after their final escape route was cut-off, say monitors.
The Syrian Democratic Forces (SDF) are preparing for an arduous battle with the Islamic extremists now they have completely surrounded Raqqa, exactly three years after Isis warlord Abu Bakr al-Baghdadi's declaration of the so-called caliphate.
The UK-based Syrian Observatory for Human Rights (SOHR) said they had succeeded in "completely encircling" the city, which was the first to free itself from the rule of Syrian President Bashar al-Assad.
The city was completely taken by Isis in January 2014, and they began a brutal crackdown on Alawites and suspected supports of Assad.
The villages on the edge of Raqqa have been falling slowly to the SDF, an alliance of Kurdish and Arab militias, for months with the attack on the city in earnest beginning earlier in June.
Earlier in the day, in neighbouring Iraq, military spokesperson Brigadier General Yahya Rasool declared from Mosul's famous Great Mosque of al-Nuri that the "fictitious state has fallen" as jihadists have all but given up in the city.
The US and other western countries including the UK, are conducting air strikes on Raqqa with some Britons joining the ranks of the SDF-aligned Kurdish People's Protection Units (YPG), the International Freedom Battalion or the Women's Protection Units (YPJ).
Speaking to the BBC, spokesman for Operation Inherent Resolve Col Ryan Dillon, said the SDF now controlled "all high speed avenues of approach into Raqqa from the south".
He added that the jihadists: "abandoned by their leadership, are being pressured by the SDF from multiple axes around the city".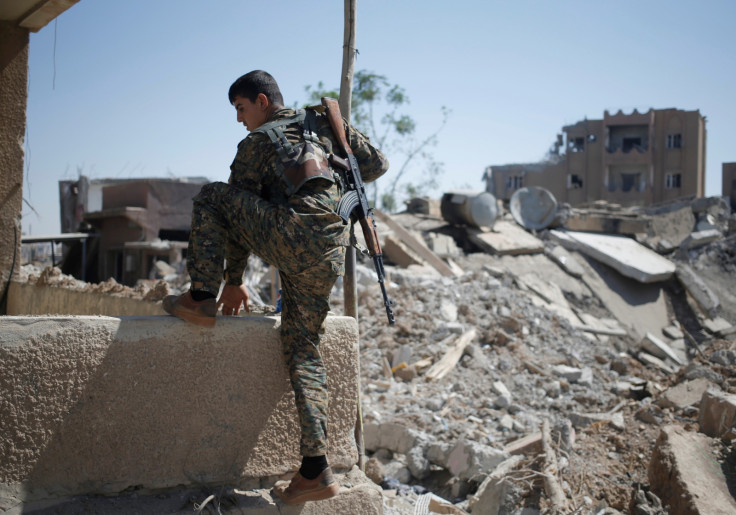 A Kurdish SDF fighter, Ali Shervan, told Kurdistan24: "The city centre is completely besieged, and our forces are fighting from all sides."
It is believed that many of the Isis top brass have fled south-east to the city of Deir Ezzor, which has been targeted by numerous airstrikes in past weeks.
The UN High Commissioner for Human Rights has expressed "grave concern" for an estimated 100,000 civilians who remain trapped in the city. According to the UN at least 173 civilians have been killed by air and ground strikes since 1 June.
Minister of Defence Sir Michael Fallon said that the jihadists were facing its "endgame" and "the terrorist group faces irreversible momentum and progress from local forces on the ground, and UK and Coalition aircraft in the skies".
He added that UK aircrew have now hit over 700 targets in support of operations to liberate Mosul since last year and 69 targets in and around Raqqa in support of SDF.
© Copyright IBTimes 2023. All rights reserved.