US Special Forces are to operate in Syria under orders to take out the Islamic State's command and control structure in concert with the coalition against Isis, former head of US central command General John Allen has said.
Speaking in London, Allen, who until October 2015 served as President Obama's Special Presidential Envoy for the Global Coalition to Counter ISIL, said US Special Forces would continue to work on the ground in Syria to destroy IS leadership in the second year of the campaign against the militant group.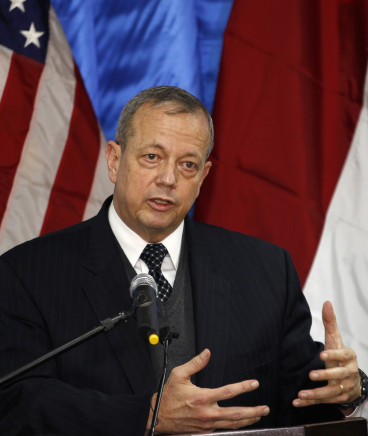 "We are going to push our special operations and our direct strike force in. They will go after the leadership itself," he explained, pointing to the success of special forces in killing IS' chief financial officer Abu Sayyaf in May.
Army Delta Force operatives killed Sayyaf uncovering information including seven terabytes of data which has proved crucial in understanding the inner workings of IS.
Allen explained that Sayyaf's wife, who was running an IS slave ring, was also seized in the raid along with a Yazidi woman being kept against her will.
The retired four-star general, who held command in Anbar province in Iraq during Operation Iraqi Freedom and commanded the International Security Assistance Force and US Forces in Afghanistan, said in his years of service he had never encountered an enemy as organised IS.
"Various aspects of the reality of Daesh: that it holds terrain, seeks to expand terrain, subjugate population and control the population and is largely self-sufficient in terms of its resourcing has made it a unique challenge for us," Allen explained using the Arabic acronym for Islamic State.
He said destroying IS would require a military and humanitarian effort as the coalition looked to interdict IS finances and combat the militant group's narrative. Allen added that successes particularly in Iraq following tactical blunders by the Islamist group meant the US and its allies had "the squeeze" on Isis.