Putin says Allah punished Turkish ruling elite by 'stripping' them of sanity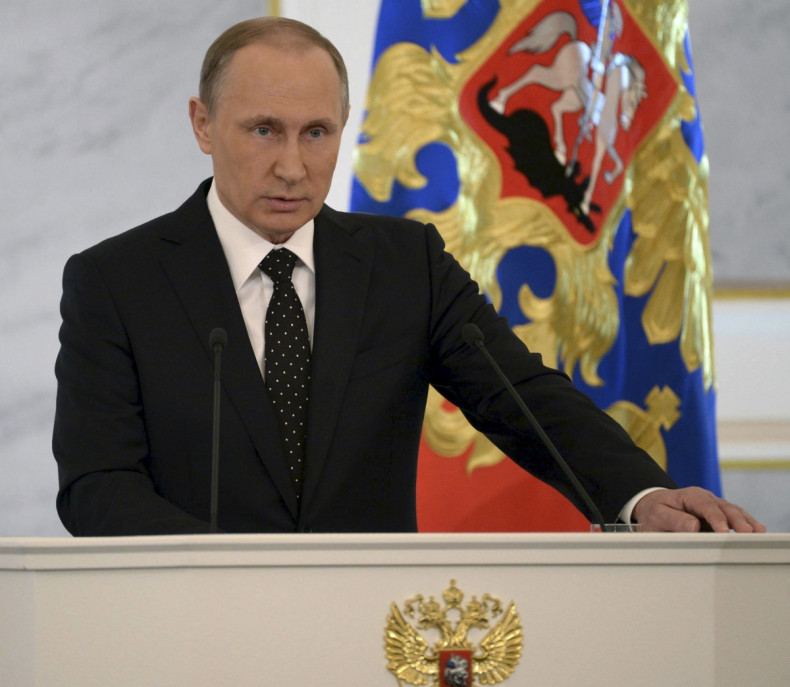 Russian President Vladimir Putin launched a blistering attack on the Turkish ruling elite, declaring that God had punished them by "stripping" their sanity. In his annual state of the nation address to the Russian parliament Putin said Turkey "supported terrorists".
In the speech which ranged from domestic to foreign policy issues, Putin addressed the growing tensions with Ankara after Turkey shot down a Russian SU-24 fighter jet, which led to the death of a pilot as well as a helicopter pilot attempting a rescue mission.
"We will not forget this complicity with terrorists. We always considered and will always consider treachery to be the ultimate and lowest act. Let those in Turkey who shot our pilots in the back know this," Putin told Russian MPs.
Turkey claims that the jet had strayed into its airspace, claims Moscow denies. In response, Russia has imposed economic sanctions on Turkey, and accused top officials of involvement in the trade of illegal oil with Islamic State (Isis/Daesh).
In the speech, Putin repeated the allegations. "We know who it is who profits in Turkey by letting terrorists sell oil there. Terrorists use that money to plan attacks against us, France, Mali and others. It was in Turkey that terrorists from the north Caucasus used to find refuge, and some of them are still there," he said.
He said that Turkish officials bore direct responsibility for the deaths of the pilots. "Some members of the Turkish elite are directly responsible for the death of our servicemen. We will never forget how they supported terrorists. Those who backstabbed our pilots should remember that," he said.
"Only Allah knows why they did it, and I guess Allah decided to punish the ruling elite in Turkey by stripping them of their sanity," Putin said."
Turkish President Recep Tayyip Erdogan said on 2 December that Russia had no right to "slander" Turkey, and repeated a pledge to resign if claims of complicity in the oil trade with IS are true.
The Russian Defence Ministry has released footage which it claims shows oil tankers full of oil from IS-controlled territory crossing into Turkey.