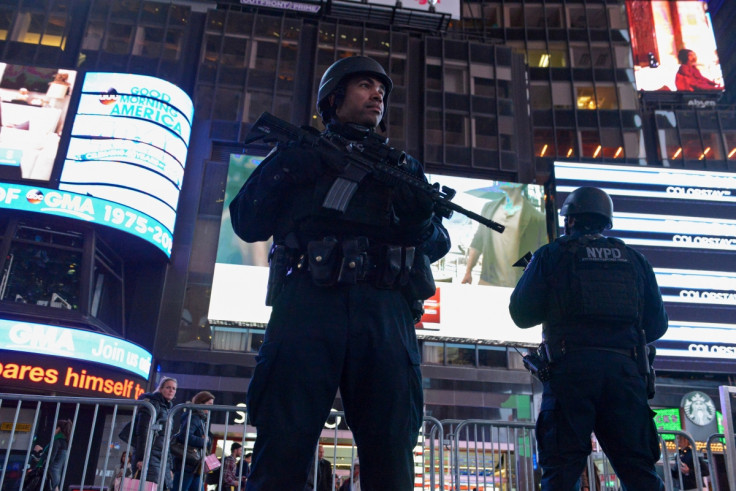 The Islamic State (Isis) has released a new video threatening to unleash terror attacks on New York's Times Square, one of the world's most popular tourist spots. US authorities say they are aware of the video and insist law enforcement agencies remain vigilant.
The propaganda video begins with footage of French President Francois Hollande and hails the Paris carnage before claiming the Islamist group's suicide bombers are preparing to attack Times Square. In one scene, a militant is shown making preparations, zipping up a leather jacket. Interspersed were clips showing Manhattan and its yellow taxis.
The six-minute video, with vibrant French music in the background, contains mostly footage released in April. Most of the recording is from the Paris attacks and depicts Hollande.
The threat came days after the Sunni insurgent group threatened to attack Washington. New York City Mayor Bill de Blasio and New York Police Department (NYPD) have responded to the latest IS video.
"We are aware of the newly released ISIL [another acronym for IS] video that mentions Times Square. While some of the video footage is not new, the video reaffirms the message that New York City remains a top terrorist target," said the NYPD.
"While there is no current or specific threat to the city at this time, we will remain at a heightened state of vigilance and will continue to work with the FBI, the Joint Terrorism Task Force and the entire intelligence community to keep the city of New York safe. In addition, we are continuing to deploy additional Critical Response Command teams throughout the city, out of an abundance of caution."
The video was released via several jihadist channels on Wednesday, 18 November, days after the Paris terror attacks which killed at least 129 people. The FBI also echoed NYPD's version saying there was no immediate credible threat to New York City. Authorities say the latest video aims to create fear among the public.
"Stoking fear is the goal of terrorist organisations, but New York City will not be intimidated," said the New York mayor. "The NYPD is the most capable police force in the country, with a robust counterterrorism operation that was just strengthened with an investment of 500 additional officers. While Times Square and Herald Square appear in the video, the NYPD in conjunction with all of our partners are taking all necessary security precautions in these areas and areas across the city."