Islamic State (Isis) Twitter accounts are using dirty tricks on social media by using the lure of Canadian pop superstar Justin Bieber in an effort to get people to watch Daesh (IS) execution videos.
Jihadis – recognising the power of a Justin Bieber hashtag and his 74 million following on Twitter – are adding #JustinBieber to their posts of violent and disturbing propaganda, which has the potential to expose a huge number of unsuspecting users to stumble upon it.
A recent execution video called 'A Message to Islamic West' was posted by @ISMedia_29 to the social network, with a link to a 15-minute YouTube clip reportedly showing four men being shot and Isis members appealing for new recruits to the terrorist group.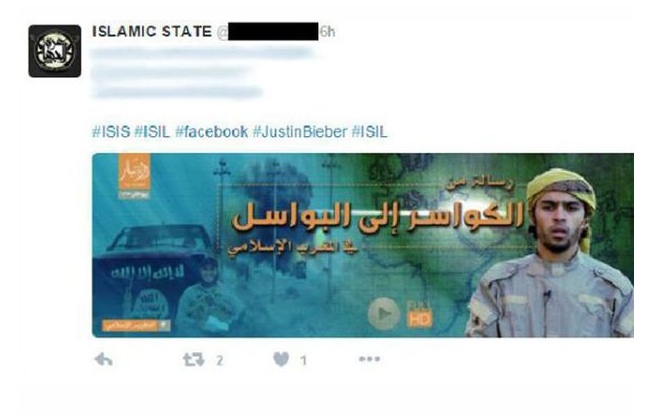 IS is known for its prolific use of social media to spread propaganda, operations and recruitment and has become so difficult to control that Facebook recently admitted defeat in the digital war to prevent extremist posts, suggesting everyone should 'like' IS posts to overturn their negative message.
As well as trying to capitalise on the fame of the 21-year-old Canadian singer, IS has used other popular hashtags looking to catch the attention of a wider audience including #Facebook and #Bollywood, which has the potential to appear on millions of feeds.
The original post has been taken down by Twitter and the video removed from YouTube for violating its terms and conditions, but as Facebook's Sheryl Sandberg said: "When you take one down, another appears," so we wouldn't be surprised if the owner of the account already has another up and running.
The best thing to do if you are searching for something unrelated on Twitter and come across extremist content you do not want to see is avoid clicking the tweet and instead report the user.