A fire and explosions at the French Cultural Centre in Gaza were claimed as the first act of terrorism in the Palestinian territory by the self-styled Islamic State in Gaza.
The new faction said its mission was to "implement Sharia law in Islamic lands and murder the children of Zion" and warned Gazans to stay away from possible targets.
Two explosions, which caused no casualties, were heard at the site while it was closed for the Eid al-Adha celebrations. A Palestinian interior ministry spokesman said the fire was caused by "faulty petrol jerry cans" and an investigation was underway.
Later, a flyer signed "Islamic State in Gaza" was released on social media saying that it had set off the explosion with 200 kg of explosives near the site's gas tanks. The statement announced the beginning of operation for the "Islamic State group in the Gaza Strip".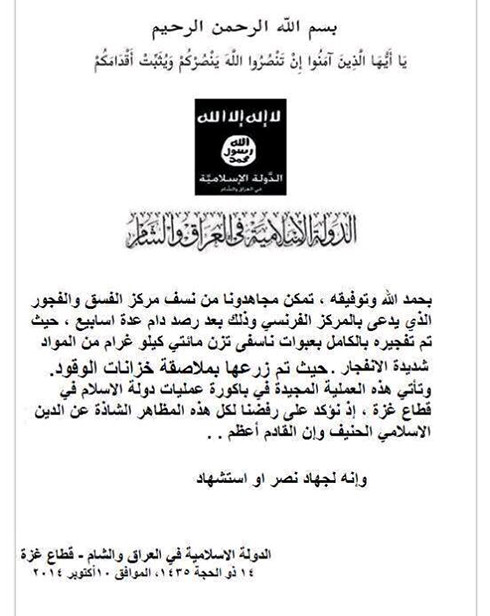 "Our fighters successfully bombed the center for immorality and heresy known as the French Cultural Center after weeks of surveillance," said the statement.
However, the purported Islamic State document immediately raised suspicion over its authenticity. The flyer was incorrectly dated 10 October, three days after the alleged attack. Also, the actual explosion took place in the kitchen, not outside as stated in the flyer.
The same group later retracted its claims in a statement sent to various media offices in Gaza City saying it had nothing to do with the blast.
The French Cultural Centre is run by the French consulate in Jerusalem but it is not staffed by French nationals. It is the only institution of its kind in Gaza and it runs French language courses and transfers visa applications from local residents.