Al-Qaida-linked militants have captured the Iraqi city of Fallujah, wresting control from government forces and their US military allies.
An Iraqi senior security official confirmed on Saturday that the jihadist group the Islamic State of Iraq and the Levant (Isil) has now claimed control of Fallujah following days of fighting sparked by the removal of an anti-government protest camp.
The camp was set up in 2012 amid Sunni Arab demonstrations against alleged marginalisation and targeting of their communities. Closure of the protest camp had long been a priority for Prime Minister Nuri al-Maliki, who referred to it as a "headquarters for the leadership of al-Qaida".
Parts of Ramadi and Fallujah, which is 69km (43 miles) west of Baghdad, have been held by militants for days, as anger against the Shiite-led government mounts among the Sunni minority.
More than 100 people were killed on Friday during fighting in Ramadi and Fallujah, in Iraq's deadliest single day in years.
Officials said on Saturday that eight people were killed during an offensive in which the Iraqi army shelled Fallujah with mortar bombs in an attempt to reclaim control of the city. The outskirts of Fallujah remain under the command of local police.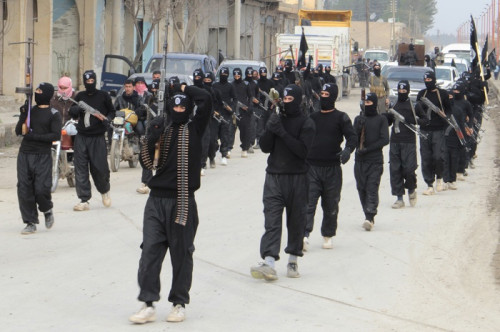 "It has turned into a ghost town," a local resident said. "Everything is closed and streets are empty except for gunmen, and gunfire is frequently heard."
An eyewitness said hundreds of gunmen, some waving black flags typically associated with jihadists, gathered at outdoor weekly Muslim prayers in the centre of Fallujah on Friday.
Meanwhile in Syria, Isil has found itself under attack from the newly formed Army of Mujahideen, which consists of a group of Syrian rebels who accuse Isil of presiding over a reign of terror and carrying out executions, kidnappings and torture.
The Army of Mujahideen's "revolution" has won support from the opposition Syrian National Coalition.
The Syrian Observatory for Human Rights said on Saturday that the rebels have killed at least 36 Isil militants in Idlib province in north-western Syria and captured more than 100.