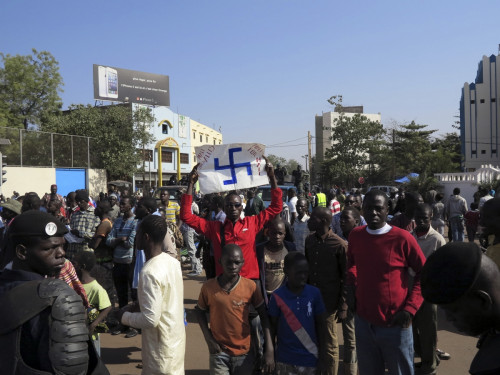 Houka Houka Ag Alfousseyni, a hardline Islamist judge who ordered amputations, floggings for women who ventured out of doors unveiled and the stoning of women for "adultery" under Sharia Law, has been arrested by Mali forces following a 10-month reign of terror in the Timbuktu region of the Central African country.
Alfousseyni, an influential figure in the rebel movement, was detained as part of a government clampdown against an Islamist group called Ansar Dine, linked with al-Qaida, which hijacked an uprising by Tuareg separatists following an army coup.
The Islamists also include the National Movement for the Liberation of the Azawad (NMLA), which retains a strong presence in the city of Kidal. The NMLA recently announced they were pulling out of peace talks.
In December another Islamist judge in the town of Gao, Aliou Mahamar Toure, was also arrested by government forces. Toure was a member of the Movement for Oneness and Jihad in West Africa (MUJAO), and is accused of numerous human rights offences.
The nature of the charges Alfousseyni faces are still unclear but referring to his arrest government spokesman Youssouf Toure - no relation to Aliou Toure - said: "Less than a month after the arrest of the former Islamic commissioner of Gao, the armed forces have just neutralised the threat of another influential member of the terrorist groups that prevailed in the north of the country."
Some 2,000 French troops were sent into its former colony in January 2013 in a bid to oust forces from al-Qaida in the Islamic Maghreb (AQIM). French forces in Mali totalled around 4,000 but have since scaled down and France expects around 1,000 soldiers to remain in the country to deal with any further threats from rebels. In 2013 two French journalists and four UN peacekeepers were killed in the country.
Recently UN Mali envoy Albert Koenders said terrorism remained a serious threat in Mali. He said despite recent improvements in getting children to school and providing access to clean drinking water, Mali's people faced severe hardship.
"Almost half a million people remain displaced within Mali and in neighbouring countries. At least 800,000 people are in need of immediate food assistance. Another 2.4 million people remain moderately food insecure and their situation risks worsening during the upcoming lean season," Koenders said.