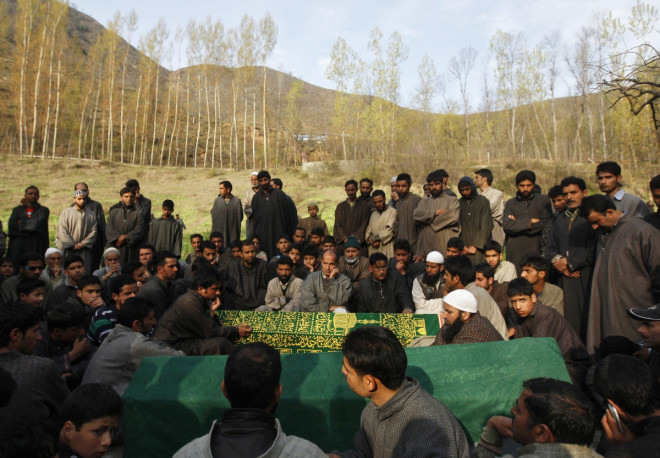 Militants have launched a spate of attacks in Kashmir to deter people from taking part in the ongoing Indian general election.
Kashmir police officials say that separatist Islamist insurgents, many of them of foreign origin, are trying to disrupt the elections in the state.
In the latest attack, militants killed three men in two separate incidents.
Headmen in two different villages of Anantnag district were targeted in the presumably pre-meditated attacks.
The assailants shot Mohammad Anwar Shiekh at point-blank range just outside his home in Amlar-Tral village, according to the Times News Network.
About an hour later, village head Ghulam Nabi Mir was gunned down in Batgund Tral in the same district. His 24-year-old son, who was with him at the time also sustained severe injuries and later died in hospital.
Just last week, another village headman in Anantnag district, Mohammad Amin Pandith, was killed by a militant in army uniform, who coaxed him to come out of his house and then shot him.
"He was targeted to make a threat to the whole area [so that] people cannot be active in the election process," his brother Abdul Rahim Pandith told Reuters.
Militants also attacked the house of a youth leader, Yawar Masoodi, and killed two policemen guarding his house before escaping.
Speculation was rife that the aim of the attack was to spread terror and not specifically to kill Masoodi, as the militants fired indiscriminately at the house and fled with the guards' weapons.
Ashok Prasad, Director General Police, said it was yet not clear if the militants wanted to enter the youth leader's house.
The violence comes amid the general election which could see the rise of the right wing Bharatiya Janata Party (BJP) and its leader Narendra Modi to power, who would like the special status granted to Kashmir to be scrapped.
"Irrespective of whether it remains a part of the Indian Constitution or not, the time has come for at least a debate to find whether Article 370 has benefited the common man in Jammu and Kashmir," Modi said in a campaign speech.
At the time of formation of the Indian state, Article 370 of the Constitution was meant to be temporary, and to bestow "transitional and special provisions" on the state of Jammu and Kashmir.
The founding fathers of the country had always thought that Kashmir's special status would wear out with the passage of time.