A group of Islamist extremists in the Philippines stormed a school in Mindanao Island early on Wednesday (21 June), but military said later in the day that the crisis was resolved and hostages freed.
At least 100 members of the Bangsamoro Islamic Freedom Fighters (BIFF) were believed to have entered the school near Pigcawayan town in North Cotabato province, taking several people hostage, according to ABS-CBN TV.
It was unclear how many people were trapped inside the school, but a military spokesman announced later in the day that the militants had withdrawn with no reports of casualties, Reuters wrote.
"It's already resolved," Brigadier General Restituto Padilla told reporters. "They've withdrawn, they are no longer there. The school area is again safe."
Padilla also confirmed that no children were taken hostage during the incident.
Earlier, Pigcawayan police chief Realan Mamon told the Inquirer that the militant group, led by Commander Agila attacked Malagakit village, 8km away from Pigcawayan town, at 5am local time (10pm BST previous day).
Pigcawayan Mayor Eliseo Garsesa had said in the morning that there could be as many as 200 rebels in the town. He also said that they had received a tip-off on possible attacks about two weeks ago.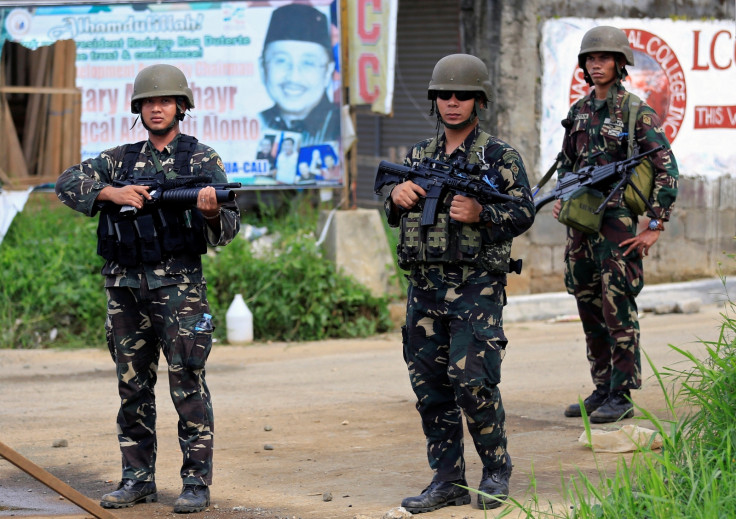 "Speculations of an attack have circulated during the past weeks. What we did was evacuate the residents of Malagakit and neighboring villages every night, especially the women, elderly and the children.
"We made them sleep in the evacuation center in the town center. They returned to their farming activities in the mornings," the mayor noted.
Mindanao island is already under martial law and Filipino soldiers are fighting other Isis-linked jihadist fighters in Marawi city — the Maute group and Abu Sayyaf. The fight has now entered the fifth week and is still raging on as residents of the besieged town are said to be feeding on cardboard boxes and leaves amid acute food shortage.