Isn't she lovely – Michelle Obama 'emotional' over Stevie Wonder serenade
The Flotus made her final late night talk show appearance on 11 January.
Michelle Obama was almost moved to tears while being serenaded by Stevie Wonder last night (11 January). The First Lady made her final late night talk show appearance on The Tonight Show Starring Jimmy Fallon and admitted she feels more "emotional" than expected as her husband, outgoing President Barack Obama, counts down his last hours as commander-in-chief.
With Michelle, 52, host Fallon and comedian Dave Chappelle watching from the sidelines, soul legend Wonder sang renditions of his iconic hits Isn't She Lovely and a remixed version of My Cherie Amour, which included personalised lyrics for the First Lady. Wonder, 66, sang: "You'll always be first lady in our minds" and "My Michelle amour, you're the only one that we adore."
Michelle was visibly touched during Wonder's intimate performance and later expressed her sadness at leaving the White House after eight years. The Flotus told Fallon: "It's nuts. I feel like crying right now. I didn't think that it was going to be that emotional, because it's like, yeah, we're ready. We're good. We're ready to go. It's been eight years. Eight years is enough, we're packing up. But it has been surprisingly emotional for all of us, in ways that we didn't expect."
President Obama made his last official address in Chicago on 10 January with his wife and their 18-year-old daughter Sasha supporting from the audience. However, their youngest daughter Malia was noticeably missing from the event prompting the hashtag, #WhereIsMalia, to trend on Twitter. Addressing Malia's absence, Michelle revealed: "She had a final. And, you know the Obamas, 'Girl, sorry! You better take your test. You can say goodbye later'."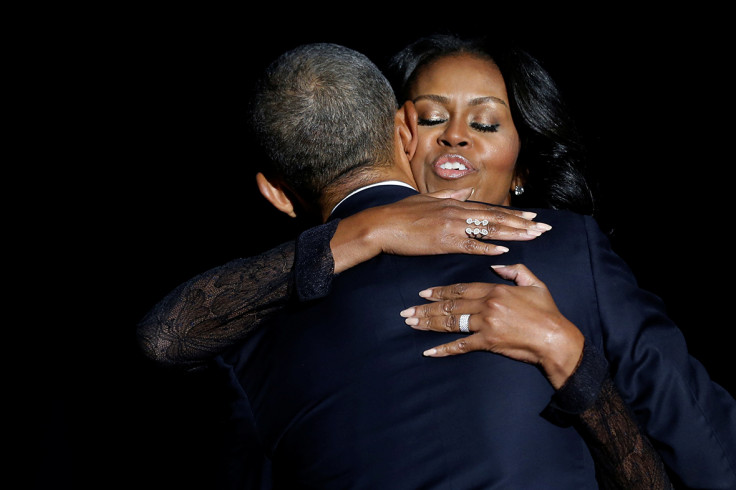 Following Obama's final address as president before Donald Trump is sworn in, many celebrities took to social media to express their gratitude to the 44th Potus. Queen of pop Madonna tweeted: "Good-bye Mr. President! There will never be another one like you! Barack Obama you are a King amongst Men," while daytime talk show host Ellen DeGeneres said: "@BarackObama I love you more than I have space on Twitter to describe. #ObamaFarewell."
American Horror Story actress Kathy Bates chimed in: "So grateful to you @POTUS for all you have done for us these last 8 years! Your dignity and strength. God Bless you and your family," while music mogul Russell Simmons added: "President Obama, because of you "those brown kids" know that they too can one day be President of the U.S."
Watch Stevie Wonder serenade Michelle Obama:
Watch Michelle Obama on Jimmy Fallon:
© Copyright IBTimes 2023. All rights reserved.