Michelle Obama has made her final address as First Lady, offering a message of hope as she called on young Americans "to lead by example."
Speaking at the White House event honoring the 2017 School Counselor of the Year as part of her Reach Higher initiative to promote post-secondary education, she urged the nation's youth to work hard and to fight for their rights.
Challenging Donald Trump's anti-immigrant rhetoric during the presidential campaign, she hailed the role of the immigrant community for their invaluable contribution in making America great.
"For all the young people in this room and those who are watching, know that this country belongs to you, to all of you, from every background and walk of life," she said. "If you or your parents are immigrants, know that you are part of a proud American tradition, the infusion of new cultures, talents and ideas, generation after generation, that has made us the greatest country on Earth."
"When you are struggling and you start thinking about giving up, I want you to remember something that my husband and I have talked about since we first started this journey nearly a decade ago, something that has carried us through every moment in this White House and every moment in our lives. And that is the power of hope, the belief that something better is always possible if you're willing to work for it and fight for it," she said.
"It is our fundamental belief in the power of hope that has allowed us to rise above the voices of doubt and division, of anger and fear that we have faced in our own lives and in the life of this country."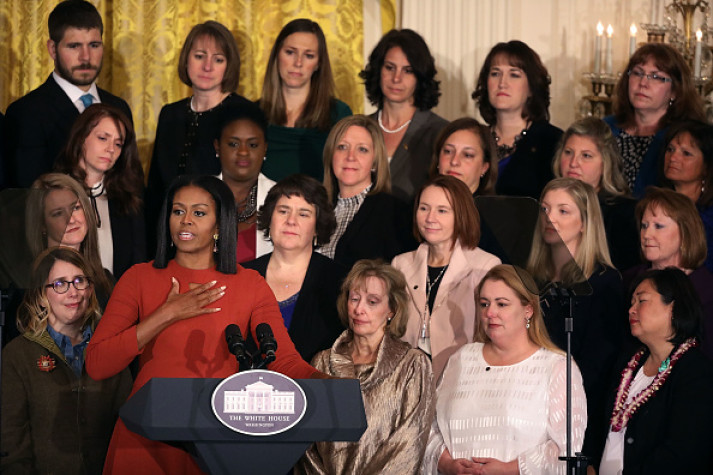 Fighting tears she choked up several times, concluding the emotional address by saying that serving as First Lady was "the greatest honour of my life" as she pledged to dedicate the rest of her life to supporting America's youth.
"I want our young people to know that they matter, that they belong, so don't be afraid. You hear me? Young people, don't be afraid. Be focused, be determined, be hopeful, be empowered," she said. "Lead by example with hope, never fear, and know that I will be with you, rooting for you and working to support you for the rest of my life."
"I want to close today by simply saying thank you," she said, with tears in her eyes. "Being your First Lady has been the greatest honor of my life, and I hope I've made you proud."
FLOTUS created the 2017 School Counselor of the Year award to recognise school counsellors and their role within schools, which Obama described as the "deciding factor" in many students' decisions to attend higher education.