Israel claims to have secretly recorded footage of a hunger-striking Palestinian leader secretly eating from food supplies in the toilet of his cell.
Marwan Barghouti, 57, played a lead role in the first and second intifadas and is one of almost 900 Palestinian inmates hunger-striking in protest at the conditions of Israeli prisons. The strike was called for by Barghouti.
The Israeli Prison Service told Haaretz that they caught Barghouti by hiding a camera in his cell.
They claim he was captured eating cookies on 27 April and a candy bar on 5 May. However, they did not say how the high-security prisoner acquired the food.
Israeli Minister of Public Security Gilad Erdan said: "Barghouti is a murderer and hypocrite who urged his fellow prisoners to strike and suffer while he ate behind their back."
However, Barghouti's lawyer, Elias Sabbagh, strenuously denied that the footage was genuine, saying: "This was expected as part of the psychological and media war the Israel Prison Service is conducting against the prisoners."
The nine-minute clip, released Sunday (7 May), is not time stamped and Barghouti has been imprisoned since 2004 following a conviction for five counts of murder. It is surprising that contraband would be allowed to make its way to such an infamous convict.
The video consists of two clips. The first shows Barghouti in a white shirt heading to a toilet in his cell with a package, reported by Haaretz to contain cookies, and then squatting on the toilet while the door closes, allegedly eating the biccies.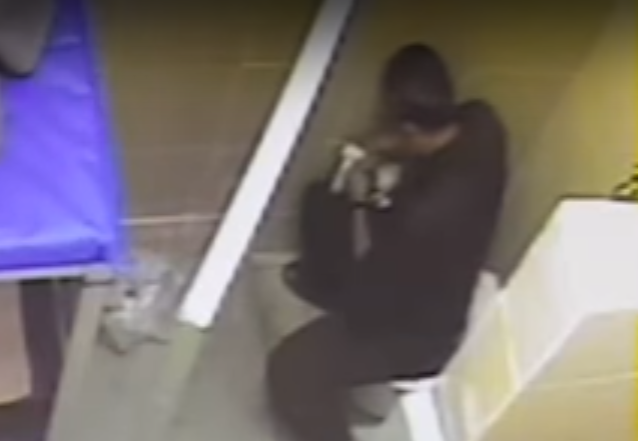 The second clip is more damning – if it was filmed as recently as is claimed – as the black-shirted Barghouti this time does not close the door of the toilet and can be seen eating a candy bar from another packet.
He then appears to eat something else, reported to be salt, by the sink in the main room of his cell.
Barghouti is a popular Palestinian figurehead who once led Tanzim, a paramilitary offshoot of Fatah.
Palestinian advocacy groups joined Barghouti's lawyer in denying that the footage proved he had broken the hunger strike, which began on 17 April.
However, Israeli politicians have used the images, combined with Barghouti's status, to denounce the protest. Erdan said: "The hunger strike was never about the conditions of the convicted terrorists, which meet international standards."