Israel escalates its aerial assault in Gaza striking hundreds of Hamas targets.
Palestinian death toll reaches 85, including 20 children, since Operation Protective Edge launch.
One Israeli injured near Gaza strip.
Rocket sirens sound in Tel Aviv, Jerusalem and other Israeli cities.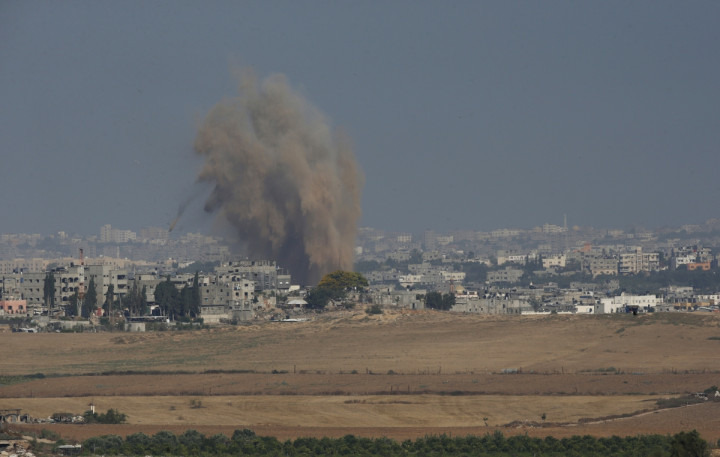 18.57 IBTimes UK live coverage of the crisis in Israel and the Palestinian Territories ends here for today. For more updates please visit ibtimes.co.uk.
18.43 The US editor of Haaretz, Chemi Shalev, tweets:
18.20 Palestinian Islamic Jihad (PIJ) said it was aiming a rocket at the Knesset and three more at Tel Aviv.
18.01 Avital Leibovich, Director of Global Jewish Advocacy (AJC) Israel office, tweets:
17.45 Ynet reports that rocket sirens sound throughout southern Israel.
17.40 Jamal Salim, who works at a Gaza city petrol station that was attacked this afternoon, says to the Guardian: "I can't believe myself that I'm back home safe tonight."
17:35 Rocket sirens sound in Israel's regional council of Merhavim.
17.29 Ynet reports that hundreds of policemen were rushed to Zikim beach, southern Israel, following reports about a suspicious man at the beach vicinity.
After a brief questioning it turned out that the man is a BBC reporter.
17.22 Palestinian doctor in Gaza, Belal Dabour, tweets: "Heavy explosions every now and then."
17.03 In this photo a Palestinian man is seen as he walks along a deserted main beach avenue in downtown Gaza City.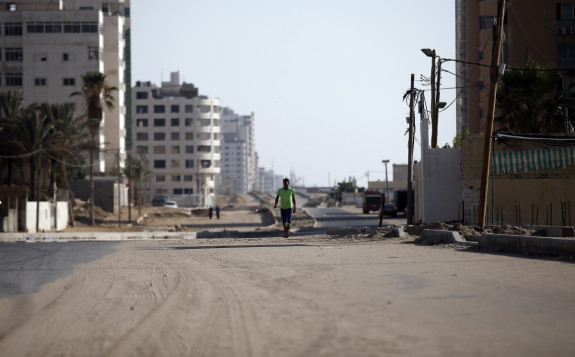 16.43 Hamas claims responsibility for the four rockets fired at Jerusalem.
16.34 An Israeli soldier has reportedly been the victim of an attempted kidnap near the Israeli settlement of Beit El, in the West Bank.
Ynet reports that the solider was waiting at a station in Givat Asaf junction when three Arab men tried to force him into a car.
He managed to escape with the help of a passerby.
16.27 UNRWA, The UN Relief and Works Agency, responsible for the welfare of Palestine refugees, tweets:
16.20 Jerusalem Post reporter Lahav Harkov tweets:
16.17: in this photo Palestinians are seen as they inspect the damages of a building hit by an Israeli air strike that killed eight people in Khan Yunis.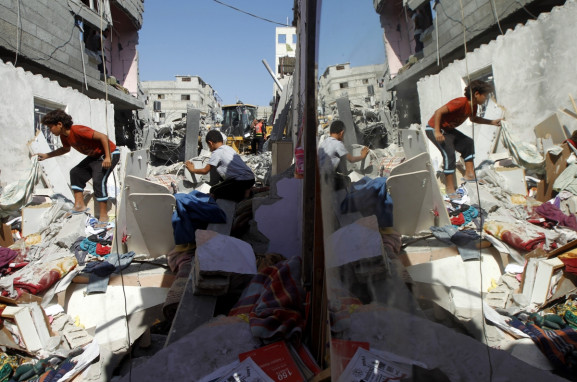 16.12 IDF tweets:
16.03 Air raid sirens sound across Jerusalem, signaling rocket attack.
16.01 Palestine's mission to the UN tweets:
15.58 After Israel's ambassador to the UN Ron Prosor accused his Palestinian counterpart of representing a terrorist organisation - Hamas - for failing to mention the hundreds of rockets that have been fired at Israel, the Israel Mission to UN tweets this photo:
15.52 Meanwhile, a spokesman for the Islamic Jihad's military wing says that the group is ready to fight a possible Israeli ground invasion of Gaza.
15.50 The UN Security Council meeting has been adjourned.
15.49 Prosor urges the Council to condemn Hamas and rocket fire.
15.46 Prosor e accuses the Palestinian envoy who spoke earlier of being a mouthpiece of Hamas.
"Since when does the representative of a terrorist organisation get a seat and a voice at the United Nations?" he asks.
15.44 Prosor says Hamas has "brainwashed" an entire generation of Palestinians and sent youths to terrorist train camps.
15.43 Prosor says Hamas has built up a massive military machine with then thousands of rockets and Israel is acting to dismantle that machine.
"Hamas must understand that it cannot target Israeli civilians," he says.
15.41 Prosor accuses Hamas of using civilians as human shields on top of building after residents have been warned to evacuate by the IDF ahead of a strike.
15.39 Prosor plays a recording of a siren alarm.
He says Israelis have only 15 seconds to take shelter since when the warning sirens signal an incoming rocket.
15.37 Israel representative Ambassador Ron Prosor is now speaking.
Starts by saying that as he is speaking there is a "storm of rockets" being fired by Hamas from Gaza at Israel.
15.35 Mansour says Israel is perpetrating war crimes against civilians in Gaza.
15.34 Mansour says Palestine rejects Israel's claims that civilians are been used as human shields in Gaza. He says that the Israeli strikes are targeting densely populated areas.
Mansour accuses Israel of carrying out a collective punishment against Palestinians after the killing of three Israeli teenagers in the West Bank.
15.31 Riyad Mansour, the permanent observer of the State of Palestine to the UN accuses Israel of attacking the civilian population and killing innocents in Gaza.
"Enough of the bloodshed of Palestinian people," Mansour tells the council.
15.28 UN secretary general Ban Ki-moon described the crisis as "one of the most critical tests the region has faced in recent years."
15.20 The UN Security Council in New York is discussing the crisis. Watch it live here.
14.49 IDF tweets:
14.18 A rocket from Gaza has landed on a market in Ramle, central Israel, injuring one man.
His conditions are not immediately clear, Ynet reports.
14.13 IDF tweets:
14.11 US Secretary of State John Kerry says it's a "dangerous moment" for the Middle East.
Kerry says no country can accept rocket attacks such as those launched by Hamas on Israel but adds that de-escalating the crisis is ultimately in everyone's interests.
Earlier, Israeli PM Netanyahu said a ceasefire in not on his government agenda at the moment.
14.05 In this photo, Palestinians are seen as they gather around the remains of a car that authorities say was targeted in an Israeli air strike, in the northern Gaza Strip.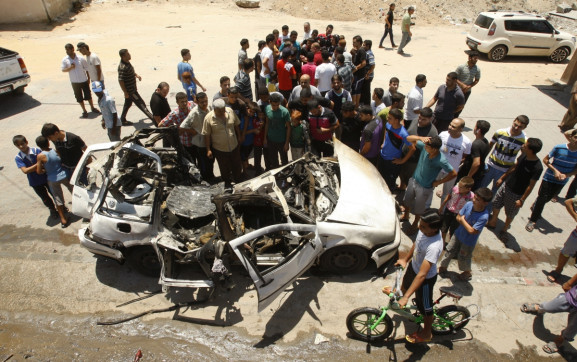 Earlier, Gaza's Ministry of Health tweeted:
14.03 The IDF has informed Palestinians living along the Gaza Strip bored to evacuate. The Israeli military usually gives this kind of warning ahead of an airstrike or other military action.
Some 100,000 people have been urged to move out of an area includinbg Beit Lahia, Beit Hanoun, Abasan al-Kabera, and Abasan al-Saghira in the northern Gaza Strip, The Times of Israel reports.
13.47 For more pictures from Gaza and Israel click here:
Balls of Fire Scorch Gaza: Israel Escalates Airstrikes to Stop Hamas Rocket Attacks
13.43 Nidal al-Mughrabi a Reuters correspondent based in Gaza Strip, tweets:
12.39 Israeli media report that Iman Siam, a senior Hamas commander in charge of the group's rocket arsenal, has been killed by the IDF.
12.35 Islamic Jihad claims responsibility for nine rocket attacks on Netivot and Ofakim, while Code Red sirens sound in Eshkol Regional Council.
12.12 Israeli military officials describe the killing of eight members of a family in Gaza as a "tragic mistake", Buzzfeed reports.
"Warning was given, and the assessment at the time was that the house was empty. It was a tragic mistake," an IDF officer says.
The Kaware family house Khan Younis was hit by an airstrike overnight.
Up to four members of the family were reportedly on the roof of the building possibly acting as human shields as it was hit.
12.03 The Health Ministry in Gaza says the death toll of Israeli airstrikes has reached 81. Half of the victims are women and children, according to the Ministry.
11.58 IDF Tweets:
11.51 The chairman of the Knesset Foreign Affairs and Defense Committee , Ze'ev Elkin, has proposed to cut water and electricity to Gaza.
Netanyahu replied saying that legal advisers would not allow such measures to be taken, Haaretz reports.
11.42 Hamas has claimed responsibility for a barrage of rockets that targeted Tel Aviv and the surrounding area.
The group said they fired 10 long-range Iranian-made rockets, Ynet reports.
11.38 Haaretz newspaper Diplomatic correspondent Barak Ravid tweets:
11.25 In these three photos: 1) a smoke trail is seen as a rocket is launched towards Israel from the northern Gaza;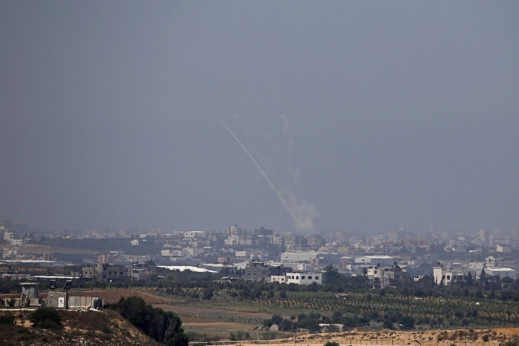 2) A woman takes a photo with her mobile phone of a car damaged when the remains of a rocket intercepted by Israel landed in a Tel Aviv neighbourhood;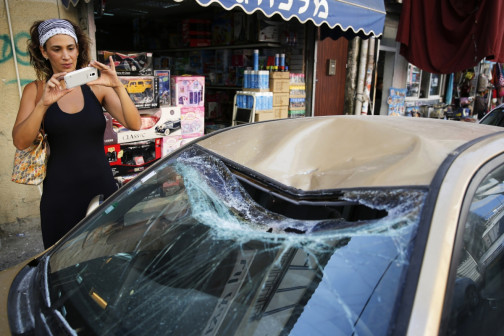 3) Palestinian mourners bury the body of five-year-old boy Abdallah Abu Ghazal killed in an Israeli air strike in the northern Gaza town of Beit Lahiya.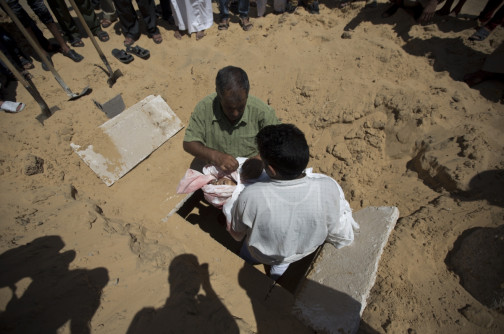 11.20 IDF Tweets:
11.05 Buzzfeed Middle East Correspondent Sheera Frenkel tweets:
11.00 Code Red sirens sound in Shaar Hanegev and Sdot Negev, near the Gaza border.
10.50 An IDF official tells Ynet that a decision on a possible ground invasion of the Gaza Strip is to be made in the next two or three days
"We are weighing all sorts of things. We still have many more targets to attack from the air." the official says.
10.48 The Health Ministry in Gaza tweets:
10.45 The Times of Israel has quoted a senior government official as saying Israel is not interested in agreeing to an immediate ceasefire.
"It is quite possible that Hamas would agree to an immediate ceasefire — we're hitting them hard, they want the situation to cool down," the official said speaking on condition of anonymity.
"We don't want to give Hamas just a timeout to rest, regroup and recharge batteries, and then next week or in two weeks they start again to shoot rockets at Israel."
10.32 Two rockets have landed in an uninhabited region of the greater Tel Aviv area.
10.25 Military spokesman Lt. Col. Peter Lerner says Israel has already mobilized 20,000 reservists for a possible ground operation into Gaza.
In this photo reserve soldiers are seen next to armoured personnel carriers (APCs) outside the central Gaza Strip.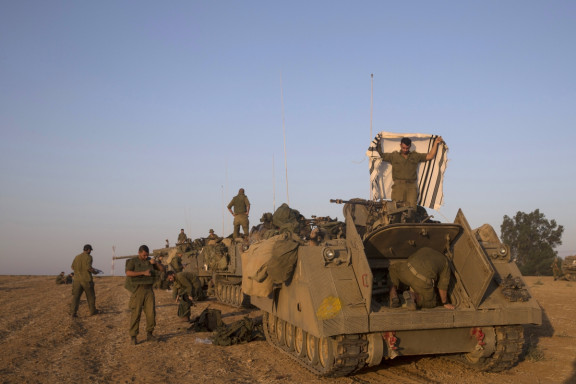 10.24 Here you can read more about overnight air raids in Gaza.
10.23 Ynet reports that the Egyptian government has opened the Rafah border crossing to Palestinians injured in air strikes.
10.21 A Security Council meeting in Tel Aviv has been interrupted by Code Red sirens, signalling a rocket strike.
Prime Minister Benjamin Netanyahu and the attending members of the Israeli Parliament or Knesset took cover in a protected shelter.
10.12 Rocket sirens sound in the Israeli towns Beersheba and Ofakim.
The IDF said Hamas has fired more than 365 rockets at Israel in the last 3 days.
10.10 The Palestinian Health Ministry said at least 20 civilians have been killed in Israeli air strikes in the last few days.
Last night, at least two homes were reportedly destroyed in Khan Younis, southern Gaza, killing members of a family, including five children.
In this picture the uncle of four-year-old Palestinian girl Yasmeen al-Motawaq, whom hospital officials said was killed in an Israeli air strike, carries her body during her funeral in Jabaliya in the northern Gaza Strip.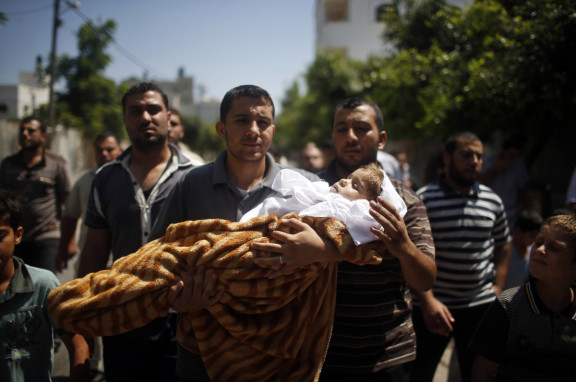 9.50 Two rockets fired from Gaza were not intercepted by Israel's Iron Dome defence system and landed in open areas of the Dan region, central Israel.
No injuries or damages were reported.
9.30 Rocket warning sirens sound in the Tel Aviv for the second time in the day. IDF Tweets:
9.20 Palestinian officials say up to 20 people have been killed by overnight Israeli air raids in Gaza. The Health Ministry in the Strip said the death toll since the beginning of Israeli operations has risen to 75.
Minutes ago, 20 rockets were fired from Gaza; the Iron Dome intercepted 8 of them above the Shfela area (Judean foothills).

— IDF (@IDFSpokesperson) July 10, 2014