Israel's Operation Protective Edge in Gaza continues and more than 1,100 targets hit.
Palestinian death toll from Israeli airstrikes rises to 100.
President Obama says US is ready to broker a ceasefire between Israel and Palestinian militants.
Three rockets fired toward Israel from Lebanon, while Hamas rockets target Tel Aviv area.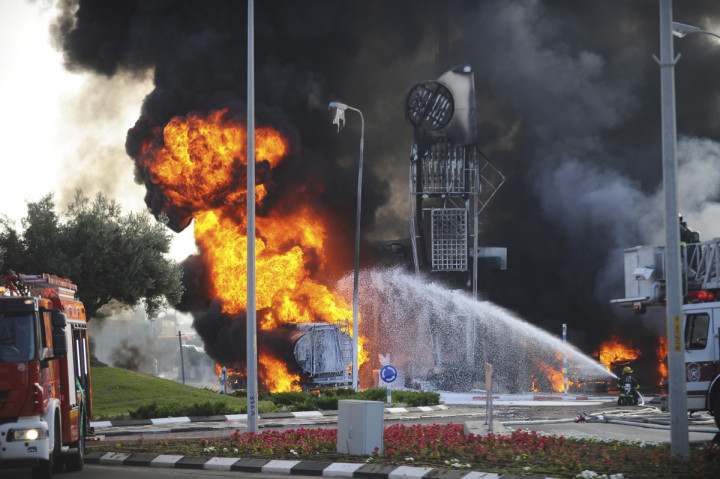 18.55 IBTimes UK live coverage of the crisis in Israel and the Palestinian Territories ends here for today. For more updates please visit ibtimes.co.uk.
18.50 IDF tweets:
18.00 Time magazine reporter Andrew Katz tweets picture of two Palestinian brothers who died during Israeli attacks.
17.50 Massive demonstrations against Israeli attacks on Palestine were held in the Kashmir Valley on Friday afternoon, the Kashmir Walla reports.
17.35 CNN's senior international correspondent Ben Wedeman tweets:
17.00 Two IDF soldiers have been slightly injured by an anti-tank missile near the Gaza border, Haaretz reports.
16.38 Jerusalem Post reporter Lahav Harkov tweets:
16.36 Netanyahu accuses Islamist militants of hiding behind civilians and says Operation Protective Edge will go on for "some more time".
16.33 Israeli PM Benjamin Netanyahu tells a press conference that he will not bow to international pressure to stop the military offensive in Gaza.
"No international pressure will prevent us from acting with all power," he says.
16.17 More from UN High Commissioner for Human Rights Navi Pillay:
"Israel, Hamas, and Palestinian armed groups in Gaza have been down this road before, and it has led only to death, destruction, distrust and a painful prolongation of the conflict," Pillay says.
16.10 In these photos: 1) a Sunni Sheikh carries a mock of a rocket during a demonstration organised by Lebanese Sunni Islamists and Palestinians to denounce Israeli air strikes on the Gaza strip, in Lebanon's southern port-city of Sidon; and 2) a Palestinian protester burns tyres during clashes with the Israeli army in the West Bank village of Kofr Qadom near Nablus.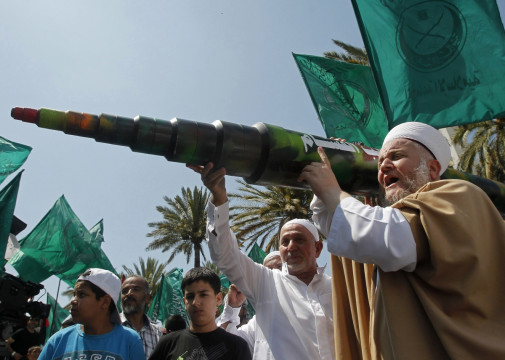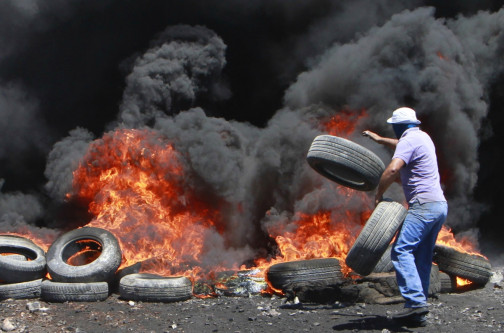 16.07 Channel 10 reports that a suspect arsonist threw a firebomb at a Jerusalem train station causing a blaze.
15.56 This footage recorder in Gaza shows the IDF's so-called "knock on the roof" practice used to alert residents that their building is about to be struck by an air raid.
Small projectiles are fired at the rooftop as a warning. Less than a minute later the building is blown up.
15.48 Italian foreign minister Federica Mogherini urges Israel and Palestinians to agree a ceasefire.
Mogherini condemns the "indiscriminate attacks on civilian areas" and says the situation is at risk of getting "out of control", threatening security and stability across the whole Middle East.
"Hamas threat to Israel's security is unacceptable," Mogherini says, adding that the number of Palestinian victims is also "intolerable".
"We must isolate those who work to destroy and divide instead of to build and unite. Hard times require brave decisions," she says.
15.37 IDF says it has killed seven Hamas militants since this morning.
15.34 Israeli President Shimon Peres tweets:
15.08 Iran's Supreme Leader Ayatollah Ali Khamenei tweets:
15.02 UN officials say Israel's air campaign in Gaza may violate international laws prohibiting the targeting of civilians.
UN High Commissioner for Human Rights Navi Pillay says she has "serious doubt about whether the Israeli strikes have been in accordance with international humanitarian law and international human rights law."
Pillay urges both the Israeli military and Gaza militants to respect international law."Civilians are bearing the brunt of the conflict," she says.
14.58 BBC Middle East Editor Jeremy Bowen tweets:
14.56 Hamas slams Palestinian Authority President Mahmoud Abbas's call for a ceasefire, saying he is "watching the conflict from the side-lines."
"Israel started the conflict but it will not decide how it will end," a spokesman for Hamas says, The Times of Israel reports.
14.41 The armed wing of militant group Hamas has warned Israel that it plans to fire rockets from the Gaza Strip at Tel Aviv's Ben-Gurion international airport.
The group, on their official Twitter page, warned airlines not to fly into Israel's main airport because of the ongoing unrest.
"The armed wing of the Hamas movement has decided to respond to the Israeli aggression, and we warn you against carrying out flights to Ben-Gurion airport, which will be one of our targets today because it also hosts a military air base," said a statement by the Islamist group's Izz el-Deen al-Qassam Brigades.
Read more here.
14.39 Reporter Hugh Naylor tweets:
13.37 IDF tweets:
13.34 Iranian President Hassan Rohani says:
To help the oppressed Palestinian people and prevent the Zionist regime from committing its horrors is the responsibility of all the international organizations and the countries that love freedom in the world.

The Palestinian people, who are difficult to defeat, will undoubtedly once again defeat the Zionist regime."
12.36 IDF says that 11 of 44 rockets Hamas fired at Israel since midnight have been intercepted by Israel's defence system Iron Dome.
In this photo an Iron Dome launcher is seen at work.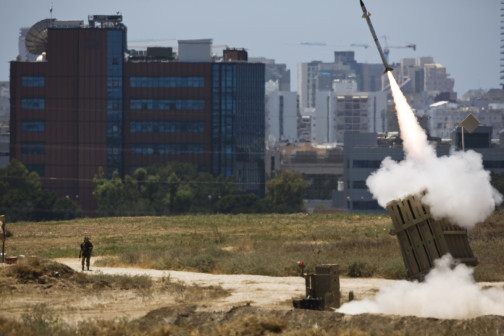 12.19 Egyptian security forces clashed with alleged Islamist militants at the entrance of a tunnel near the Rafah border crossing into Gaza, Ynet reports.
Military sources said the militants fled after a brief fight. 20 grad rocket war heads were recovered from inside the tunnel which was then destroyed.
12.11 Warning sirens sound in the northern Negev area. Meanwhile a rocket lands in a road in the Merhavim Regional Council. No injuries reported.
11.43 In these photos: an Israeli Apache helicopter fires flares over the Israeli-Gaza border and smoke and debris from an Israeli explosion rise above the northern Gaza Strip.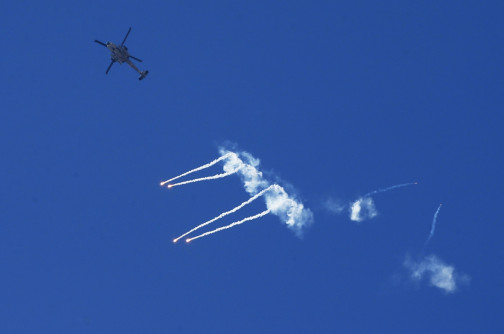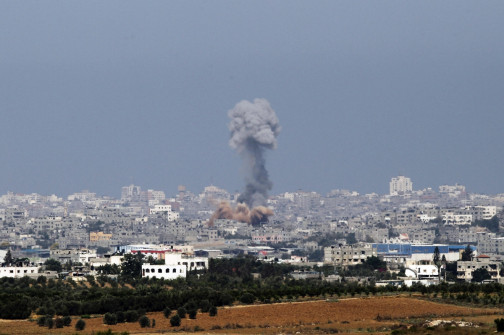 11.37 IDF tweets:
11.24 US President Obama has offered to broker a ceasefire but the Israeli government appears not to be interested at the moment.
Government sources in Jerusalem tell The Times of Israel that offers to broker a ceasefire are "currently not relevant, because Hamas continues to shoot rockets at Israeli citizens."
11.13 US Ambassador to Israel Dan Shapiro tells Israel Defense Forces Radio:
There is nobody who wants a ground operation and we want Hamas to stop launching missiles and rockets. But in that case Israel has full American backing."
11.08 Israel has accused Hamas of using civilians as human shields. IDF tweets a graphic showing how they say Gaza homes are used as command centres.
11.03 Middle East envoy and former British PM Tony Blair describes the situation as "critical".
"I think we have got to do everything we can to ... create a situation in which the people in Gaza and the West Bank and in Israel feel that this is not then going to recur and there is some genuine plan in place," he says.
11.00 In this photo, Israeli soldiers are seen as they sleep in a field near the central Gaza Strip.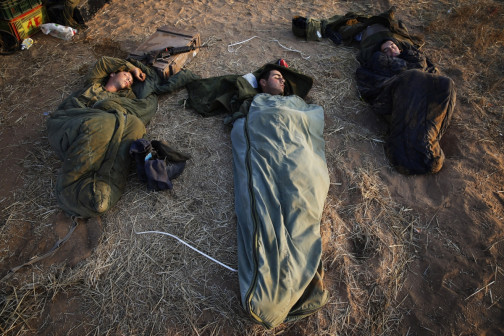 Israel has mobilized more than 30,000 reservists to supplement a potential ground operation.
Yesterday Israeli officials said a decision on whether to launch a ground invasion of the Gaza Strip is to be made in the next few days.
10.52 A mortar shell reportedly hit a house in Eshkol, near the Gaza border. No one was injured as the family who lives there took shelter in their protected room.
10.49 Health Ministry in Gaza says 100 Palestinians have been killed since Israel launched Operation Protective Edge. Another 670 have been wounded, the Ministry says.
10.24 Israel Defense Force (IDF) says more than 570 rockets have been fired from Gaza at Israel in the past 3 days.
10.20 In this photo, a Palestinian man reacts following an Israeli air strike in Gaza City.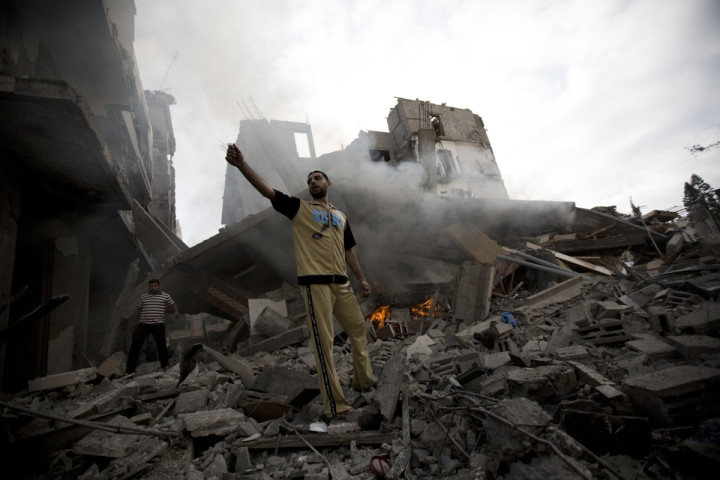 10.00 Code Red rocket sirens sound in Sha'ar Hanegev, Sdot Negev and Hof Ashkelon Regional Councils.
Israeli defence system Iron Dome shots down three rockets over the greater Tel Aviv area.
9.50 Turkish Prime Minister Recep Tayyip Erdogan says it is impossible to normalise relations between Ankara and Tel Aviv as long as Israel continues its offensive in Gaza.
"You have to end this oppression. As long as it does not end, a normalizing of ties between Turkey and Israel is not possible," Erdogan says.
Diplomatic relations between the two countries soured in 2010 as Israeli commandos stormed a pro-Palestinian ship eight Turks and one Turkish-American.
9.47 Lebanese media report security forces have arrested one man over rocket on suspicion of involvement into firing rockets at Israel.
Three rockets were fired toward Israel from southern Lebanon early in the morning. The Israeli military retaliated by firing about 25 artillery shells on the area.
9.42 IDF tweets: