Israel-Gaza Crisis: Washington Mock Bomb Shelter Simulates Hamas Rocket Attack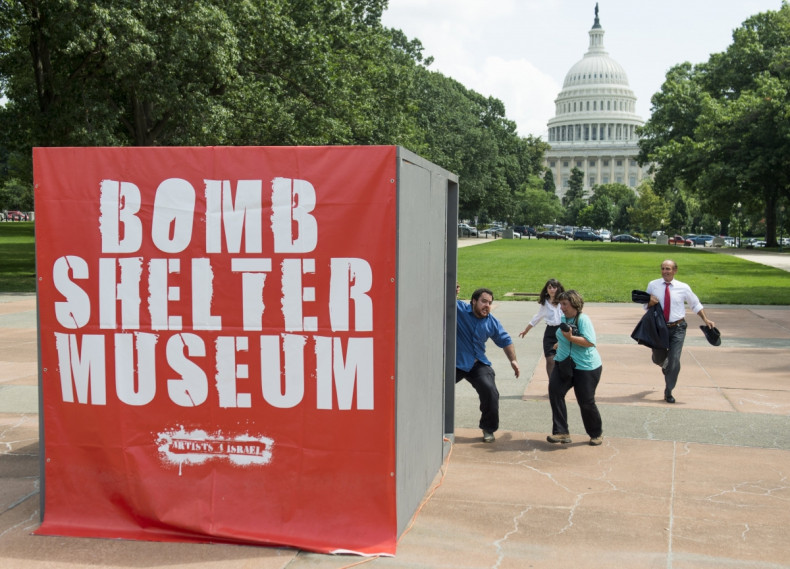 A pro-Israel artists group have created in Washington DC a multimedia art exhibit which allows people to experience the trauma of seeking swift refuge from Hamas rockets in a mock Israeli bomb shelter.
Artists 4 Israel modelled the 10 x 10 x 8-foot "Bomb Shelter Museum", installed near the US Capitol for one day, after bomb shelters in Israel, made of wood and concrete.
The shelter also features a video presentation where visitors can watch actual footage of rockets launched by Palestinian militants from Gaza. The group re-enacted a 15-second bomb raid drill as part of the exhibit.
"We want people to be aware of the trauma that is experienced – even when you do find the shelter," Artists 4 Israel executive director Craig Dershowitz told Talk Radio News Service.
"I think that the terrorist government of Hamas should be protecting its citizens better. I also think they should not be instigating a conflict with a nation that has the capability of answering that conflict with deadly force. It's a shame that it's happening at all, but we have to really look and assign blame correctly."
The display will move to New York's Washington Square Park.
Two Israelis have been killed in rocket attacks since the start of Operation Protective Edge against Hamas militants in Gaza while over 600 Palestinians have been killed by Israeli ground and air forces in the occupied Palestinian territory.