Israel Successfully Test-Fires Magic Wand, Successor to Iron Dome Interceptor [VIDEO]
Iron Dome intercepted nearly 421 rockets in the latest Israel-Gaza conflict.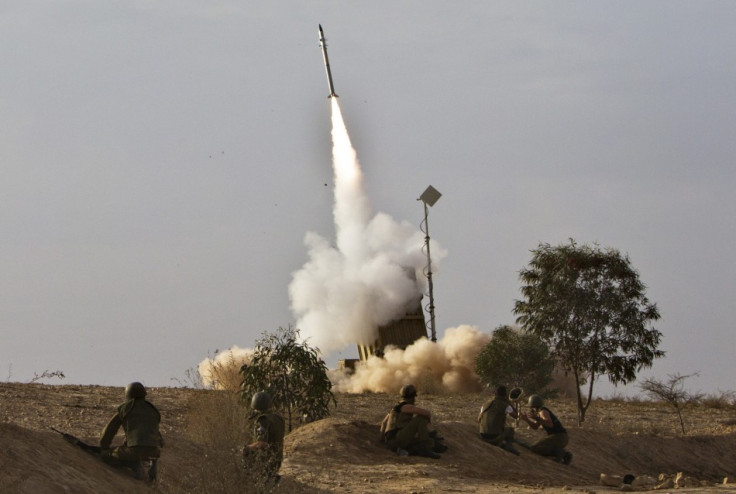 Israel has successfully test-fired Magic Wand, the successor to the Iron Dome interceptor that featured prominently in the recent Gaza conflict. And now, even before the aftershocks of the Israel-Gaza conflict dissipate, the Israeli Defense Forces (IDF) have tested the next generation of anti-missile systems.
The interceptor, also known as David's Sling, was jointly developed by Israel's Rafael Advanced Defense Systems and the United States' Raytheon.
Magic Wand, it is understood, was developed against the Hezbollah missiles from Lebanon. The country is subject to threats from the Islamic militant group, perceived as the long arm of Iran.
Israel is hoping the latest system in its arsenal will be useful in intercepting a variety of short-range ballistic and cruise missiles. The interception range for Magic Wand is between 70km and 75km. Each interceptor has been estimated to have cost around $1mn (£624,000) and expected to be fully operational in 2014.
Testing was originally scheduled for 2013 but the critical situation of recent weeks has seen the schedule pulled forward. The Iron Dome interceptor successfully stopped over 400 missiles from the Gaza Strip. IDF statements indicate Iron Dome has a success rate of approximately 90 percent and the latest interceptor, it is hoped, will extend the same run.
"The great success of the Iron Dome batteries during Operation Pillar of Defense proves beyond a shadow of a doubt the tremendous importance of anti-missile systems. Israel is a world leader in this department thanks to the Israeli defence industries and its developers," said Defence Minister Ehud Barak in a statement, adding, "The completion of the programme will be a significant layer for Israel's multi-tiered anti-missile defence system."
Officials in the Jewish state are reportedly pleased with the success of the latest interceptor, as its system is much more complex.
"The current test simulated the relevant threats the system will be called to deal with. This is a landmark in Israel's operational capability in the multi-layered defence layout. There will be other experiments. The Magic Wand's radar tracked the target from the beginning until interception. Unlike the Iron Dome, it's a system without batteries that operates as a national unit," a senior official at the Defence Ministry (who did not want to be indentified) told Ynet News.
Israel's Defence Minister Ehud Barak Quits Politics [VIDEO]
© Copyright IBTimes 2023. All rights reserved.