Israel-Gaza 'Immediate Ceasefire' Vote Splits Labour Party In Two
While MPs debate an SNP amendment that supports an "immediate ceasefire" Labour Leader Keir Starmer struggles to find party unity.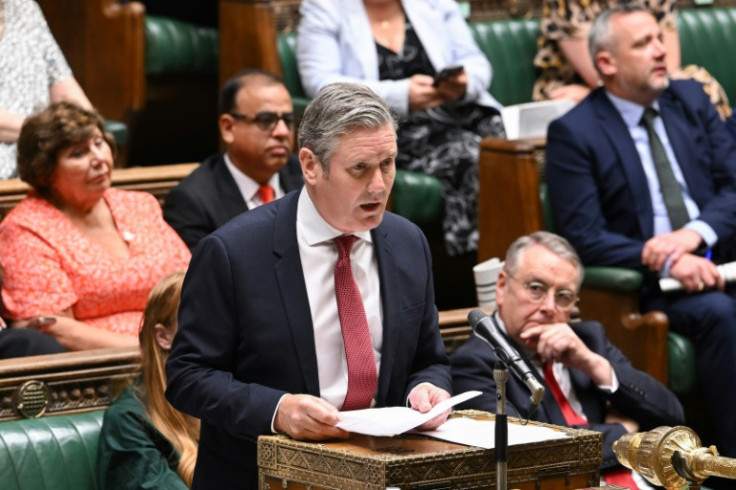 Labour MPs have been under pressure today, as an SNP amendment that calls for an "immediate ceasefire" will also be debated by MPs.
In an attempt to find Labour's concrete position on the Israel-Hamas conflict, that party's leader Keir Starmer has called a vote within the party.
The party has reflected on growing concerns regarding the mounting civilian death toll in Gaza and has debated the call for a complete ceasefire, compared to the urge for a pause to allow for an influx of aid.
The bid to maintain party unity comes after the Labour Leader publicly supported the call for a humanitarian pause despite dozens of Labour MPs urging Starmer to vote and consider advocating for an immediate ceasefire.
Some, 19, members of the Labour's frontbench have also publicly distanced themselves from their official party position – including Labour Shadow Minister Imran Hussain.
Hussain stepped down from his post last week "with a heavy heart", as part of a campaign that rooted for an immediate ceasefire from both Hamas and the Israeli Defence Force (IDF).
Announcing his resignation, Hussain wrote on X: "I want to be able to strongly advocate for a ceasefire, as called for by the UN General Secretary. In order to be fully free to do so, I have tonight stepped down from Labour's frontbench."
In his resignation letter to Starmer, which Hussain also posted on social media, the former Shadow Secretary wrote: "Over recent weeks, it has become clear that my view on the ongoing humanitarian catastrophe in Gaza differs substantially from the position you have adopted."
"A ceasefire is essential to ending the bloodshed, to ensuring that enough aid can pass into Gaza and reach those most in need, and to help ensure the safe return of the Israeli hostages," he added.
Almost 50 councillors have also resigned from the Labour Party, as Starmer continues to argue that an immediate ceasefire would not be appropriate.
While giving a speech at Chatham House in London earlier this month, Starmer expressed that an immediate ceasefire "would leave Hamas with the infrastructure and the capability to carry out the sort of attack we saw on October 7".
A spokesperson for the Labour Party told reporters that shadow ministers are expected to quit or be sacked for backing the SNP amendment, noting that "this is a whipped vote and every MP knows what the consequence of that means ".
"There is an understanding that there is a difference when it comes to the space that we have allowed, given that we fully understand that this is a very challenging subject... in the debate that there has been up to this point, but at the point at which there is a vote in Parliament that clearly is something that has a significance to it that everybody understands," the spokesperson added.
At 10:30 p.m. last night, the words "MPs – Vote For Peace: Vote Ceasefire Now" were projected onto the Houses of Parliament ahead of the ceasefire vote taking place today.
The vibrant projection was conducted by ActionAid UK and was supported by dozens of other charitable organisations, including Action Against Hunger UK, Age International, CAFOD, Care International UK, Christian Aid, Islamic Relief UK, Medical Aid for Palestinians, Save the Children UK and War Child.
Halima Begum, the CEO of ActionAid UK, said in a statement: "Across the country, there is hope that our politicians will put humanity first and vote to call for an immediate ceasefire to get humanitarian aid into Gaza and the hostages out."
"This is also a vote for the future of hundreds of thousands of children, each of whom has the right to go to bed at night without the fear of bombing, and the fear that they will be the next to suffer injury or death," she added.
More than 300,000 members of the UK public have also signed petitions that urge the House Of Commons to support an immediate ceasefire in both Israel and Gaza.
© Copyright IBTimes 2023. All rights reserved.