Keir Starmer Warns Israel But Refuses To Back Calls For Ceasefire
The Labour leader attempted to provide some clarity on his position, as internal conflict within his party threatens to undermine his leadership.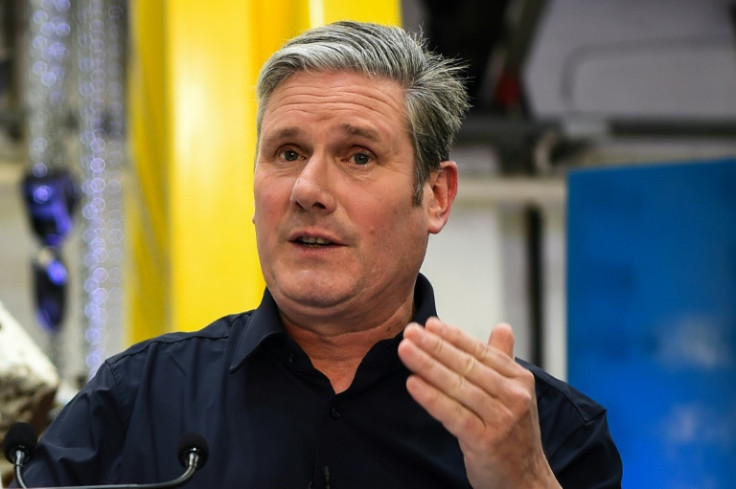 In his latest speech, Keir Starmer urged Israel to obey international law but refused to back calls for a ceasefire.
The Labour leader aimed to provide some clarity on his position regarding the crisis, as internal conflict within his party threatens to undermine confidence in his leadership.
Labour holds a resounding lead over the Tories in the polls, but Starmer has faced criticism for his apparent disregard for the safety of Palestinian citizens and failure to demand Israel abide by international law.
In an attempt to reassure MPs and councillors who have threatened to quit the party over the issue, Starmer gave his most direct criticism yet of the Israeli bombardment, expressing "concern" over some of its actions and urging the Israeli government to allow fuel to cross into Gaza.
But he rejected calls made by some of his most high-profile colleagues for an immediate ceasefire in the region, saying such a move would make it harder to rescue Israeli hostages still being held by Hamas.
"While I understand calls for a ceasefire at this stage, I do not believe that it is the correct position now," he told an audience at the Chatham House foreign affairs think tank in London.
He said a ceasefire would "freeze the conflict", allowing Hamas to relaunch attacks against Israel in the future.
"Hamas would be emboldened and start preparing for future violence immediately," he said, adding that he wanted instead to see a temporary "humanitarian pause" in fighting.
The comments marked a direct rejection of calls for a ceasefire made by, among others, the Scottish Labour leader, Anas Sarwar, the Labour mayor of London, Sadiq Khan, and the Labour mayor of Greater Manchester, Andy Burnham.
At least 13 shadow ministers – including Alex Cunningham, Afzal Khan, Rushanara Ali, Andy Slaughter, Jess Phillips and Florence Eshalomi – have also joined calls for an end to the fighting.
Outside of Labour, over 100,000 people have taken to the streets of London in the past few weeks to demand politicians seek a ceasefire.
In the US, entertainment industry giants came together to sign a letter asking US President Joe Biden to call for a ceasefire in Gaza last Monday.
Some of the biggest names in both the movie and music industry lent their signatures in support of a hold in the violence in the Middle East.
In line with the US government's policy, both the Government and the Opposition in the UK have, so far, supported Israel's right to self-defence, following the Hamas terror attacks on October 7th.
In a briefing to foreign press, Israeli Prime Minister Benjamin Netanyahu said a ceasefire would amount to surrendering to Hamas, whose gunmen killed 1,400 people and took more than 230 hostages, according to the latest Israeli figures.
"Calls for a ceasefire are calls for Israel to surrender to Hamas, to surrender to terrorism... this will not happen," he said, vowing Israel would "fight until this battle is won".
Starmer also refused to support the judgment of the UN among others that war crimes may have been committed during the bombardment of Gaza.
"Israel has to act in accordance with the law," he said. But he added: "I think it's unwise for politicians to stand on stages like this or to sit in television studios and pronounce day by day which acts may or may not be lawful under international law."
Conveniently, this position allowed him to distance himself from the right-wing Israeli PM, and his tone towards pro-ceasefire voices in his own ranks was tolerant – saying that he understood what was driving them.
While he signalled that pro-ceasefire frontbenchers seemed to be safe from the sack, Sir Keir has suspended the former shadow minister Andy McDonald from the parliamentary party whip after comments he made that were 'deeply offensive, particularly at a time of rising anti-Semitism which has left Jewish people fearful for their safety'.
Those comments, which the Labour backbencher made at the weekend, included the phrase 'between the river and the sea'. He will now be investigated by the party's disciplinary process.
London's Jewish community has been on edge since Hamas attacked Israel earlier this month, with security increased at synagogues, schools and other buildings.
"People feel vulnerable and people feel frightened, and right now the recorded incidents of anti-Semitism are a record," said Raymond Simonson, chief executive of the JW3 arts, culture and entertainment venue in the north of the UK capital.
"There's never been this many incidents... in the UK as there have been in the last 20 days," he told AFP.
On Sunday, a mob looking for Israelis and Jews overran an airport in Russia's Caucasus republic of Dagestan after rumours spread that a flight was arriving from Israel.
The governor of Dagestan promised that those responsible for the incident would be punished.
© Copyright IBTimes 2023. All rights reserved.