Israel jets under fire from Syria retaliate with bombing raid near Damascus
Israel Defense Forces say Syrian regime was responsible for the incident.
Israel has launched a retaliatory air strike on Syria after its warplanes came under fire as they were on a reconnaissance mission over neighbouring Lebanon on Monday 16 October, Israeli officials said, according to Reuters,
A Syrian anti-aircraft battery, located 50 km (30 miles) east of Damascus, which Israel blamed for firing on its fighters was targeted by and "incapacitated".
"Earlier today, an anti-aircraft missile was launched from Syria towards IDF aircraft during a routine flight over Lebanon. No hits confirmed," IDF said in a statement on Twitter.
"In response, IDF aircraft targeted the anti-aircraft battery in Syria.
"The Syrian regime is responsible for the anti-aircraft fire. The IDF maintains its ability to thwart hostilities against Israeli civilians," the statement continued.
"Preserving the relative stability is a common interest. Israel has no intention of destabilizing the situation."
The Israeli army sad it was expecting possible retaliation by Syria, Israeli news site Harretz reported.
There was no immediate comment from Syria.
Israeli military spokesman Lieutenant-Colonel Jonathan Conricus said the IDF had informed Russia before it attacked the battery and it would brief Russian Defence Minister, Sergei Shoigu, due to begin a visit to Israel on Monday.
The incident occurred months after the Israeli army released a video purportedly showing its air force targeting three Syrian military installations after claiming that at least 10 "errant" projectiles fired from Syria had landed in Israel-controlled territory.
It is believed the fire was not aimed at Israeli targets and was the result of fighting in Syria, where President Basha Al-Assad's troops are battling Islamist militants in Quneitra province, near the Israeli-occupied Golan Heights.
Israel has previously targeted Syria after shell fire landed in the Golan Heights and to strike weapon supplies of Lebanon's Hezbollah group, which is fighting alongside the Syrian government in the current conflict.
War in Syria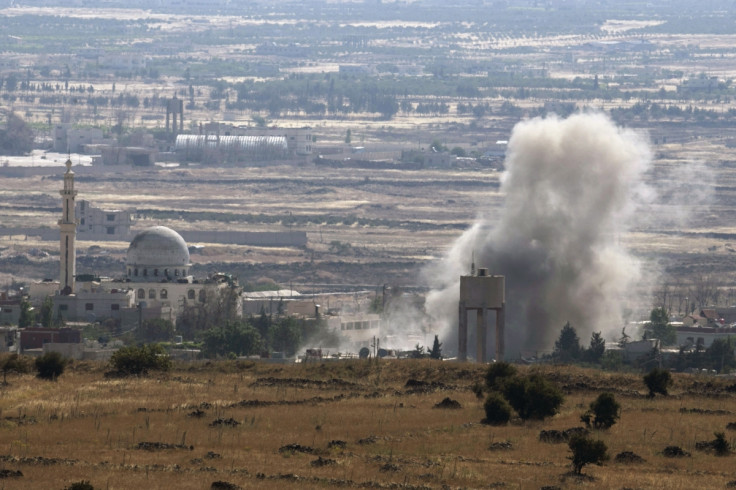 Syria descended into war in 2011 , when President Assad deployed government troops to quash anti-government demonstrations in several areas of the country.
Assad refused to step down as violence spread throughout the region. Despite several ceasefires and the intervention of international coalitions, the conflict deepened and fostered the emergence of anti-Assad rebel groups.
The warring sides involved in the conflict are numerous. A US-led coalition backs some of the militia groups that want to overthrow Assad, including SDF and Free Syrian Army.
On the other side, Russia, Iran and Hezbollah back Assad forces.
Isis terror group fights both pro and anti-Assad forces and aims to establish an Islamic caliphate throughout the occupied territories.
The conflict has resulted in the death of hundreds of thousands of people and the displacement of millions.