At the headquarters of the Zionist Union Party in Tel Aviv on Tuesday night elation turned to optimism - then finally to disappointment.
The sports arena that served as the election day ground zero was decorated with blue and white balloons and a huge screen, and gradually filled with activists as the evening went on. Once the polls closed, supporters of Labour leader Isaac Herzog and his partner Tzipi Livni were still hoping that they had managed to unseat Benjamin Netanyahu.
Yotam Romano was one of the many young Israelis who volunteered for the Zionist Union's campaign during the last months.
Final Israeli election results 2015
Likud Party - 30 seats
Zionist Union - 24
United Arab list - 14
Yesh Atid - 11
Kulanu - 10
Habayit Hayehudi - 8
Shas - 7
United Torah Judaism - 6
Yisrael Beiteinu - 6
Meretz - 4
Source: Haaretz
"I want to wake up tomorrow into a new morning for the Israeli democracy and to change the government," said the 27 year-old activist.
According to Romano, the main problems in his country are "the high costs and the security issue, while social-economic matters should be prioritised. We will wait for the results tomorrow."
At 10 pm the results began to appear on the giant screen and the impact was felt immediately. Despite previous predictions, the Likud party was leading on seats according to Channel 2 with a total of 27, followed by the Zionist Union and then the Arab united list with 13.
But that did not prevent members of the Israeli Labour party who teamed up with Livni from proclaiming victory.
"Bibi [Netanyahu] you have failed", Secretary General of the Labour Party Yehiel 'Hilik' Bar said. "Something has changed with this election."
Bar proceeded to criticise the right-wing parties, including Avigdor Liberman and his party Israel Beiteinu, which received only five seats, and Naftali Bennett from 'The Jewish Home', which despite positive estimations got only eight seats, a significant reduction from the 2013 results.
'A social coalition which will seek peace with our neighbours'
At 11.00 pm Herzog entered the building accompanied by Livni and key figures in his political space. After a short introduction, he addressed a significant amount of cheering activists.
"We did something extraordinary today: since 1992 with [Itzhak] Rabin we did not achieve such a result and I'm very proud to be here with you tonight", he said.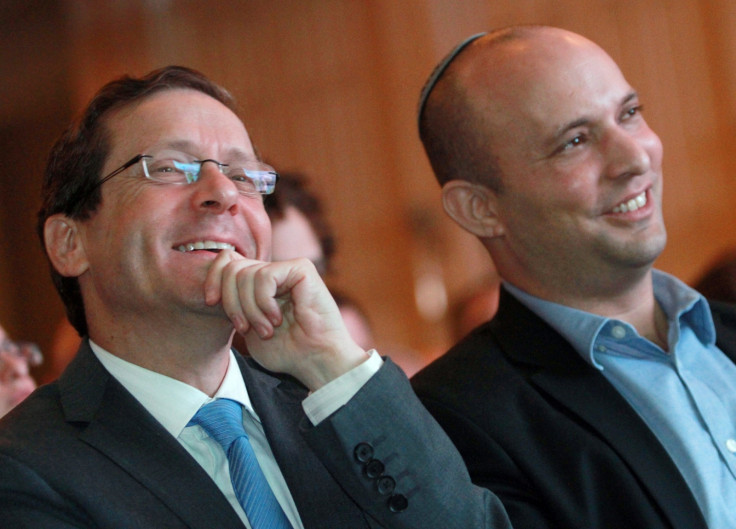 Herzog pledged "to build a social coalition which will seek peace among its neighbours", suggesting a possible commitment to a peace process with the Palestinians once in office.
Later came Livni, a former member of Netanyahu's administration.
"We'll continue fighting. We created a successful partnership and we are leading the Zionist Union, which is bigger than the radical right-wing parties," she said.
Netanyahu had claimed victory within 90 minutes of the polls closing, and as the votes were counted his optimism was seemingly vindicated. Herzog later conceded defeat.
Arab parties rising
One of the most important consequences of these elections is the rise of the Arab parties, united in one list.
They became the third-largest party in the country, a reasonable result giving the fact that they represent almost 20 percent of the local population.
The ultra-orthodox party Shas was divided in two, and their force has been reduced to seven seats from 11 obtained in 2013.
Their rivals Yesh Atid, led by Yair Lapid, lost seven seats but remain an important party within the political arena.
A new 'king-maker' appeared on the scene: Moshe Kahlon, head of 'Kulanu', and former member of the Likud will have a decisive role in the new government if he so decides. His decision can break the deadlock and give one side a decisive advantage.
So far, the centre-right parties will have an easier task in order to achieve the magic number of 61 seats - the real work for Netanyahu begins now.
Damian Pachter is a 30-year-old Argentine-Israeli journalist who has worked for the BBC, AP, the Buenos Aires Herald, and as a correspondent for Haaretz newspaper in Argentina.