A gathering of thousands of Isis (now known as the Islamic State) supporters has taken place at Jerusalem's Temple Mount, according to local Israeli media.
The report by the Israeli television station Channel 10 (to be broadcast next week) added the gathering further demonstrated the terror group's sights were firmly focused on Israel as a future target.
The rally, which took place on a recent Friday prayer session, was organised by the Tahrir party, described as the "Palestine branch" of IS.
The author of the report, Zvi Yehezkeli, said a widely shared photo of an IS supporter was taken next to his position at the Temple Mount.
He added the terror group "now knocking on Jordan's door, has marked 'Palestine' as the next target on its list".
In July, IS told the Palestinian people it was "only a matter of time" before they reach Palestine to join the fight against "barbaric Jews".
"It is only matter of time and patience before it [IS] reaches Palestine to fight the barbaric Jews and kill those of them hiding behind the gharqad trees - the trees of the Jews," read the statement, released on social media.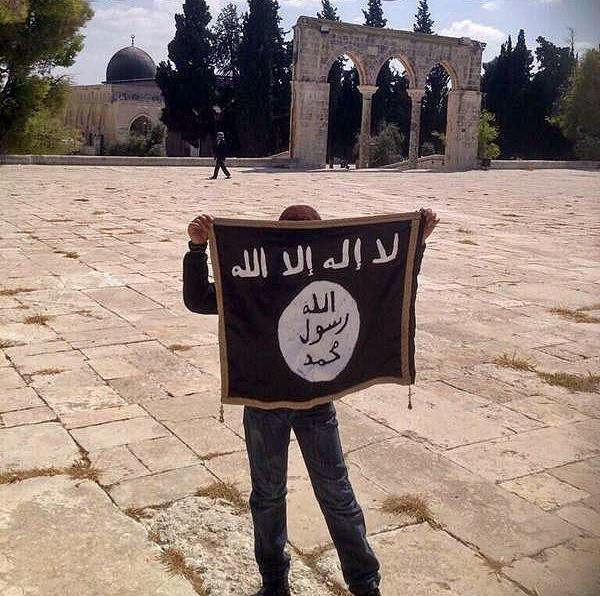 The group said it would do "everything within its means" to continue the fight against any obstacle on the way to "Palestine", alluding to the Middle Eastern territory before the creation of the State of Israel in 1948.
"As for the massacres taking place in Gaza against the Muslim men, women and children, then the Islamic State will do everything within its means to continue striking down every apostate who stands as an obstacle on its paths towards Palestine," the group said.
Earlier this week, Israeli officials announced IS had been banned from the country and anyone associated with the group would face the full force of the law.
Defense Minister Moshe Ya'alon signed the law that banned gatherings of organisations that were sympathetic or friendly with IS.
It was also announced by the Israeli foreign ministry that Steven Sotloff, the second US journalist beheaded by the terror group, held Israeli citizenship and had studied for an undergraduate degree at the Interdisciplinary Center in Herzliya.