Photos purportedly showing the first Chinese national ever seen fighting for Isis have been published online.
According to the South China Morning Post, the Facebook page of the Iraqi Ministry of Defence published two photos of the captured fighter, describing him as "Chinese daash" - an Arabic term for "The Islamic State in Iraq and Syria" or Isis.
The first photo shows the man bloodied and being held by an Iraqi soldiers. The second photo shows the man lying unconcious on the ground. The man is shown in both photos with an Arabic sticker of the group's colours on his left arm.
The Chinese embassy in Iraq and the Iraqi government both declined requests for comment about the captured militant.
Foreign jihadis have flocked to the group's self-declared Islamic 'Caliphate' straddling the Iraqi-Syrian border, including many British, Australian and American fighters.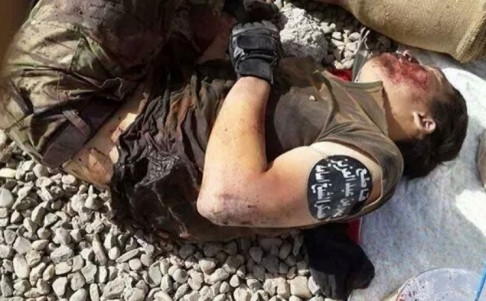 In videos showing the murders of two American journalists, James Foley and Steven Sotloff, a masked IS militant is heard speaking with a British accent.
In a speech in July, IS leader Abu Bakr al-Baghdadi said that "Muslim rights are forcibly seized in China, India, Palestine" while imploring Muslims from around the world to join the group.
West Asian scholar at the Chinese Academy of Social Sciences, Yin Gang, told the South China Morning Post said it is likely that hundreds of Chinese nationals are fighting for the terror group.
"These Chinese nationals are responding to the extreme Muslims' call to join the jihad of Isis and are seeking to gather combat experience," he said.
Last year, a Chinese man known as Bo Wang posted a YouTube video claiming that he had joined Sunni Islamist militants in Syria, believed to be separate to the IS group.
While it is currently unknown which region the Chinese national is from or what his beliefs are, the Chinese region of Xinjiang has been beset by unrest from separatist Uighur Muslim groups.
Uighur Muslims resent Chinese control and changes to their traditional way of life. Many are urging the creation of an independent state called East Turkestan.
The Uighurs speak Turkic and follow a moderate form of Islam but some have adopted more radical strands of Islam found in Saudi Arabia and Afghanistan.